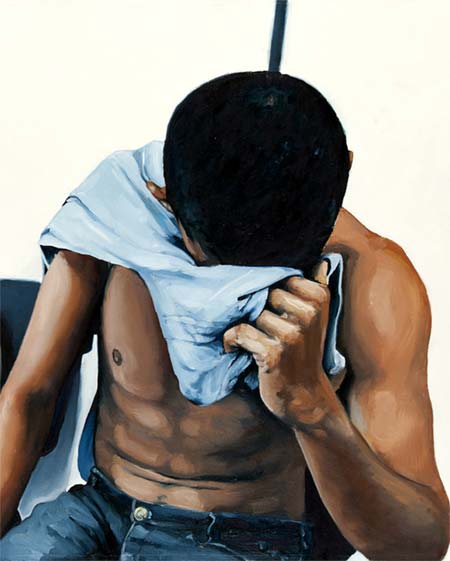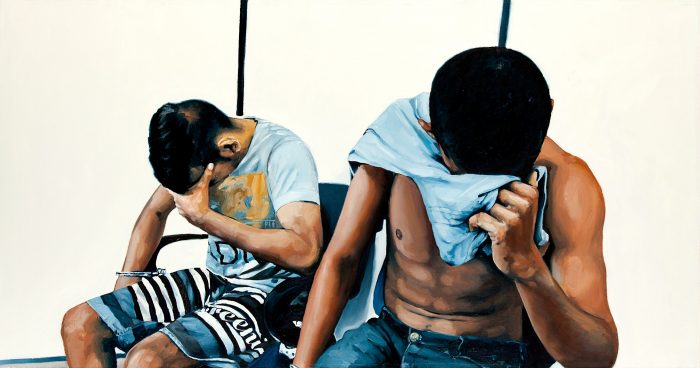 In the eighth edition of the Arte Atual program – a series of unpublished exhibitions held by the Instituto Tomie Ohtake – the artists Éder Oliveira, Regina Parra and Virgínia de Medeiros present You will never look at me from there where I see you, an exhibition with "reflections on the portrait as a pictorial genre and as a way of recognizing and attributing an identity to the portrayed".
According to a text by curators Diego Mauro, Luana Fortes, Priscyla Gomes and Theo Monteiro, "it is possible, through the works, to discuss parameters of how artists build the limits between the 'I' and the 'other', and delimit relationships of affinity and of distinction. More than that, the works present explain how the guest artists use the human figure as one of their tools to approach the violence that we impute or to which our bodies are imputed, the limits and traces of time and the notion of the body as a place of resistance".
While Éder Oliveira from Pará is recognized for painting colorful portraits, in different scales and varied supports, whose main object is the Amazonian man - also problematizing violence in the region -, Regina Parra works with painting, photography and video addressing issues as new hierarchies of power, limits, control and changing cultural boundaries. According to the text of the show, she "brings in her portrait a process of mythological deconstruction about herself", without producing self-portraits.
Virginia de Medeiros, in turn, from Feira de Santana who lives in São Paulo, proposes in the exhibition a new montage for her series Bronze Soul (2016-2018), based on her interaction with female leaders of the Frente de Luta por Housing (FLM) of the Movimento Sem Teto do Centro (MSTC), initiated with her participation in the Cambridge Artist Residency Program and later transmuted into the Occupation July 9. The new installation, of an installation nature, features video portraits of twelve important female leaders of the occupation.

The Arte Atual program, according to Instituto Tomie Ohtake, since 2013 seeks to feed experimental artistic research, to create possibilities to improve and enrich the research of each participant. For this, it counts on the partnership of galleries for the production of the works, developed through dialogues between the curatorial team of Instituto Tomie Ohtake and the invited artists. In this eighth edition, the galleries Millan, Nara Roesler and Periscope made it possible.
You will never look at me from where I see you
Instituto Tomie Ohtake – Av. Faria Lima 201
From August 07 to September 29, 2019
Free admission