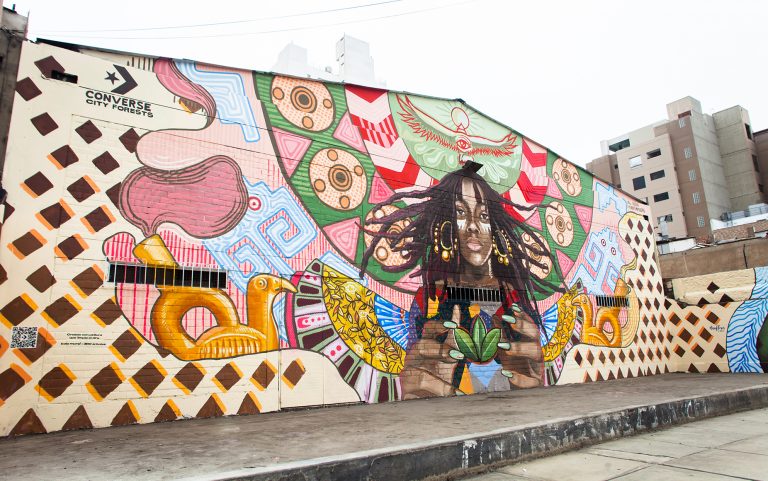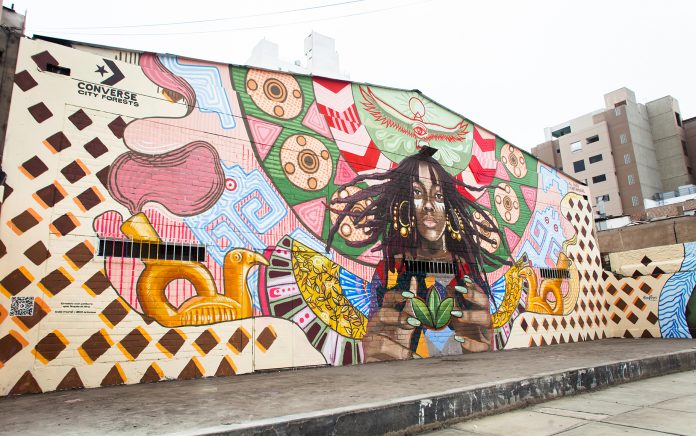 A Air pollution is one of the main problems in large cities. But what if street art could act to minimize this environmental impact? This is what the Converse City Forests project proposes. THE global action plans to spread murals made with photocatalytic paint, a material that uses light energy to decompose harmful atmospheric pollutants, in several countries.
According to Converse, the company responsible for the project, "Any surface coated with this paint becomes an active air-purifying surface, which helps protect people from harmful gases. Ink plays the role of trees in places they cannot grow." Research from Brazilian and international institutions[1] also point out the properties of this material and explain that it is the presence of nanoparticles of elements such as titanium dioxide that gives the paint, from the phenomenon of photocatalysis, new properties: the self-cleaning of surfaces and air purification.
In 2020, Brazil received an ecological mural of this type for the first time. In a gable next to the Via Elevada Presidente João Goulart (the famous Minhocão), in São Paulo, Rimon Guimarães created pindorama. The estimate is that the graphite has an effect equivalent to 750 trees. Alongside other ecological murals from Latin America – made in Santiago (Chile), Lima (Peru) and Mexico City -, the work follows the theme "pride, ancestry and local roots", based on references and research from Brazilian indigenous peoples. .
In addition, Converse City Forests has had operations on other continents. In Africa, they created a mural in Johannesburg (South Africa), while Oceania has graffiti in Sydney (Australia). In Europe, Warsaw (Poland) and Belgrade (Serbia) received ecological works, while Asia was the continent most impacted, with productions in Ho Chi Minh City (Vietnam), Manila (Philippines), Jakarta (Indonesia), Bangkok, Ratchaburi and Chiang Mai (Thailand).

In all the actions of the project there is an intense performance of the Converse's creative community, the All Stars. Pthe art of a global company community, they are approximately 3 members around the world in 30 countries. The group from São Paulo has around 120 young people between the ages of 18 and 23, all connected to the world of art in some way.
Decentralizing fights and arts
However, to the team, urban forests still seemed very centralized. Thinking of spreading the action of the project in São Paulo and taking the ink technology to more parts of the city, they created City Attack, the axis of Converse City Forests responsible for the creation of 60 murals distributed throughout the different regions of the capital.
This stage was intended for the artist Pina and is based on works made with stencils, seeking to replicate the arts more quickly. In collaboration with Converse, the artist chose three All Stars who had different lines of research and militancy, so that he could express the struggles of each one through their art. Those selected were Lucas Fidelis representing the anti-racist struggle; Vitória Leona, who portrays native peoples, and Lucy Eclipsa, symbolizing the struggle of non-binary trans people.

"It is very important that we look at the city as a disputed territory. Bringing more layers to the project and taking it to the most varied places is to democratize access to art and information on the streets", explains Lucy Eclipsa. For the artist, this is especially important because of City Attack's mission to put identity struggles on the agenda: "It is not new that cultural spaces such as museums and galleries are not inviting and inclusive for trans, black, indigenous and peripheral people, because the most of these places are elite. These interventions bring guidelines so that everyone who passes through there has the experience of thinking – even if for a short time – about the importance of the struggles of black, indigenous and trans bodies, inspiring artists and brands to take these responsibilities on their paths".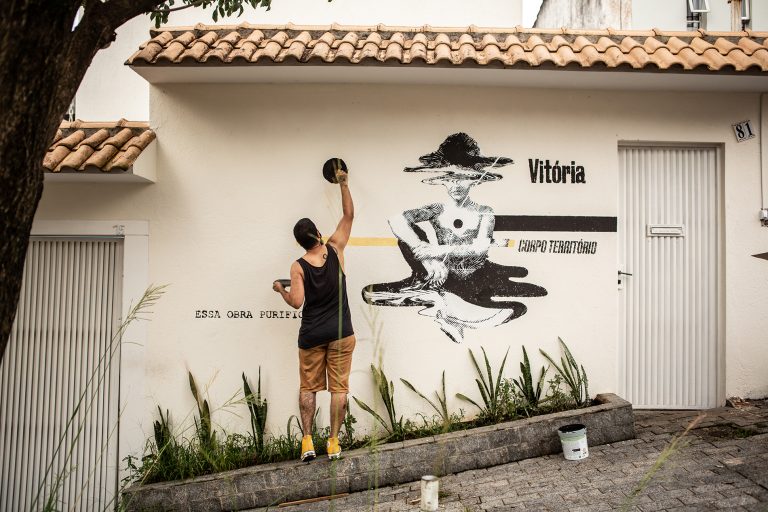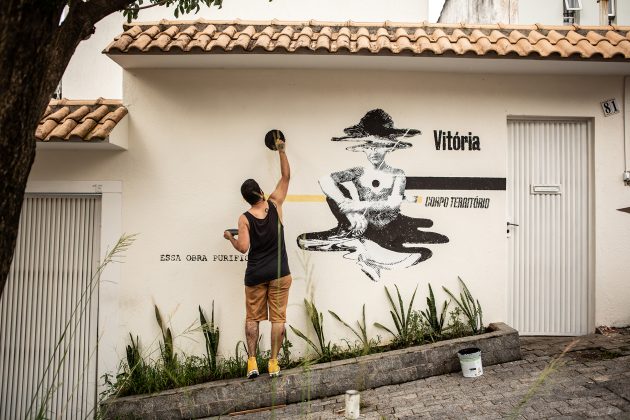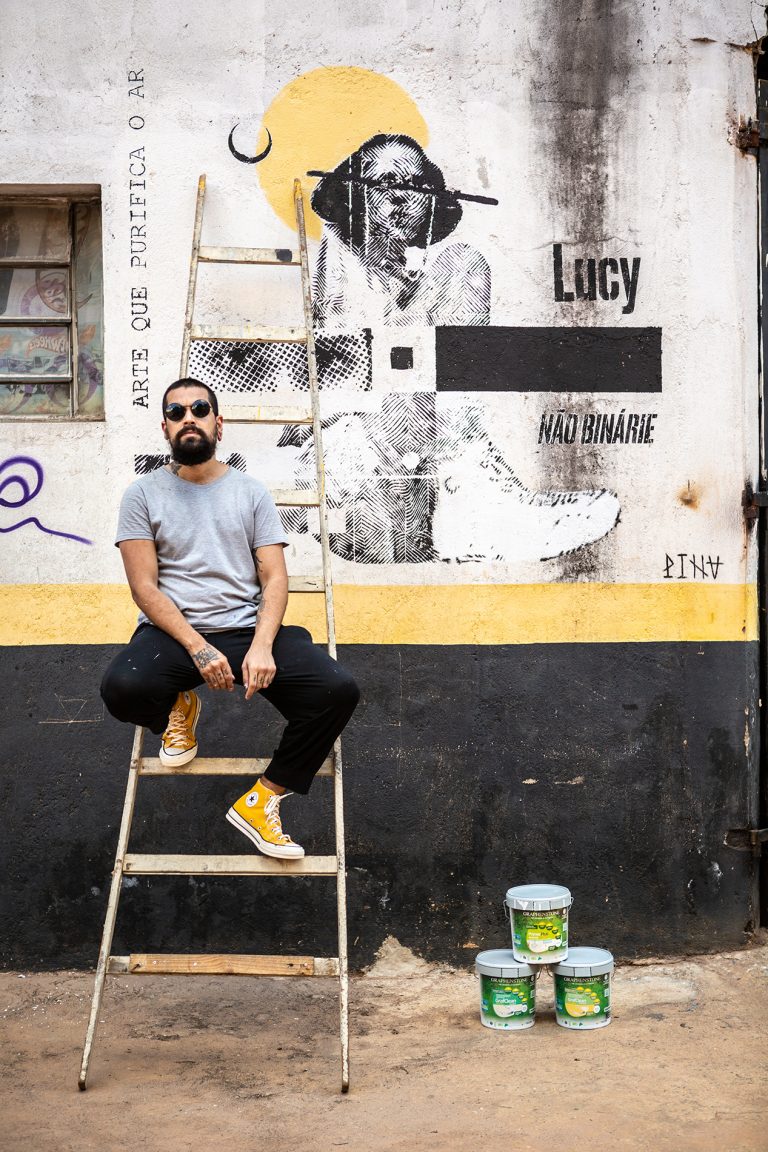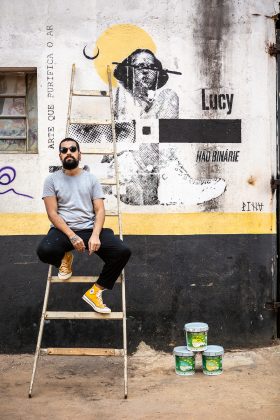 Vitória Leona joins in and believes that the action will also have a direct impact on her art and militancy. "Participating in this action made me reflect on what I do, what I represent and how it positions me in the world. It is not a campaign to exalt my image, and it makes me understand how I carry a message with me and I am representative of my story," she shares.
For Fidelis, it is precisely the juxtaposition of the guidelines that makes the project even more powerful and current, "the ambiguity that this technology brings, between the same ink that emits art and a political message, emits an environmental act, is beautiful to follow." To which Lucy adds: "Today it is necessary to unite the struggle for human rights and the environment, they are emerging struggles that talk about life, health and the occupation of spaces, putting in check the root of these current problems".
____________________________________________________________________
BALDISSARELLI, VZ; SAPATIERI, JC; MOREIRA, RF Evaluation of photocatalytic and antifungal activity of smart paints. In: Brazilian Congress of Chemical Engineering in Scientific Initiation. San Carlos, 2017. Annals… San Carlos, 2017.
HAGHHIGHAT, L.; FARIBORZ, Z. Photocatalytic air cleaners and materials technologies – Abilities and limitations. Building and Environment, v. 91, p. 191-203, Sept. 2015.