Throughout his life José Rufino builds a labyrinth, both lived and fictional, with enigmas that echo and constitute the fabric of a permanent production process. Since childhood, he was driven by the scenarios of his indignation: a large slaveholding house, political persecution of his parents, hunger in the countryside, witness to the destruction of human relationships.
Limbo
Like a video wall, the exhibition Limbo, on view until Sunday at the Mário de Andrade Library, reminds us, in retrospect, of the path taken by Rufino with works that manifest themselves in timeless circumstances. Probing/transformation is a binomial that joins other interests such as the past, memory, death, the oppressed-oppressor. In the 1980s, a period of intense production and proliferation of new media, such as the release of creative wills repressed by the dictatorship, Rufino works on letters from his grandfather, a powerful plantation owner, written in a period of particular oppression. The artist's retrospective vision, in the sense that the art of an era must involve, and not simply generate success, has guided his path. Within this timeline there are ruptures, but not contradictions, even when he exposes a drawing developed at the age of ten, whose imprecise image recalls the Rorschach test, which years later he would develop in several series.
The retrospective is an evolutionary version of an art that reveals some principles adopted by chance, such as minimal art, with formal simplicity and content complexity. Rufino worked on an accumulation of choices and rediscoveries of saved, forgotten works, some unfinished waiting to be exhibited, in a broader context. Among dozens of them there is what he classifies as pre-works or proto-works, in addition to drawings,
models, concrete and visual poetry and postcard art. Limbo is made of layers of poetry, denunciation, and the atrophy of spaces of marginalized beings, which covers the period
from 1970 to 2018, in addition to recent works The impetus that drives the retrospective comes from a
intimate and complex process, within a poetics that deals with voids and roughness, to stitch together a story that has already been exposed in around two hundred exhibitions in Brazil and abroad. In Rufino, silence and absence become presences, as he has also shown as the curator of Usina de Arte, in the middle of the woods, in the south of Pernambuco.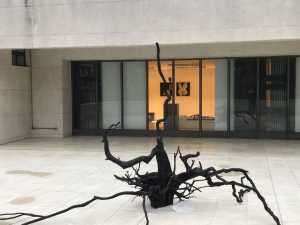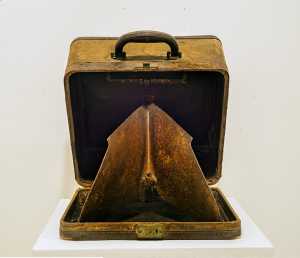 Visitation: until November 18, 2018
Every day from 08 am to 19 pm.
Location: Consolation Hall, Lobby and Oval Office
Consolação Street, 94
Free entrance