Anyone who passes in front of number 1.300 of Avenida Fonseca Rodrigues, in the west of São Paulo, hardly notices that a cultural institution is located there, which, starting this Saturday (March 23), should become an important artistic center in the city. Except for a discreet logo on the wall, with the writing "A Casa do Parque", that seems to be just another noble residence in the São Paulo neighborhood of Alto de Pinheiros.
In fact, the mansion in front of Villa-Lobos Park will house exhibitions, courses, workshops and various cultural activities, starting with the exhibition Tension Cordial Relations, curated by Tadeu Chiarelli, and for a cycle of debates on contemporary art collecting. Conceived and founded by Regina Pinho de Almeida – a collector who owns a huge collection and an active figure in museums such as MASP, Pinacoteca and MAM – the Casa represents an expansion of the activities of the Instituto de Cultura Contemporâneo (ICCo), created by her in 2009 and responsible for for the realization of exhibitions, residencies and publications.
It is not, however, a "personalist" project, as Chiarelli and Paulo Werneck, coordinator of the cultural program at the House, emphasize. Editor of the literary magazine 451 and curator of three editions of Flip, Werneck takes on the task of putting together a program in various artistic areas. At his side, educator and plastic artist Claudio Cretti is responsible for programming courses, which travel in a multidisciplinary and unconventional way through the fields of arts, botany, dance, design, architecture and cuisine.
The dialogue between house and park, between public and private, between what is intimate or shared will set the tone for various activities at the House, which appears in the city at a delicate moment for the cultural sector - either because of the conservative wave or the lack of of public investment. "It's a really blunt response to that moment," says Werneck. For Chiarelli, "it is a very serious attitude by Regina, in this context of the country, to make such a bet. Of course, there is already an audience for the House, but there is also a large audience to be conquered and formed".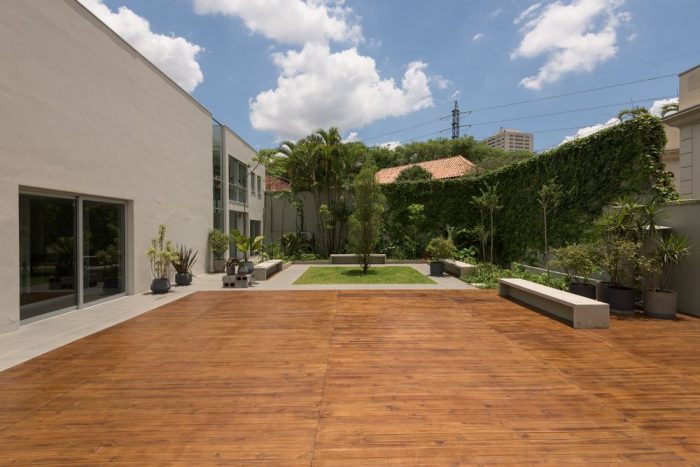 According to the curator, an important differential of the Casa in relation to other cultural institutions or independent art spaces in the city is the existence of a significant art collection – Regina's own collection. This does not transform the space into a museum, but allows not only the assembly of contemporary art exhibitions but also the use of the works in courses and workshops.
cultural corridor
Despite not being in a central or commercial area of ​​the city, but in an elite residential neighborhood, the location of Casa do Parque does not seem, for Werneck, to be a hindrance to his activities. Firstly, because of the proximity to Villa-Lobos Park, a public space with a large circulation of people, but also for being in a kind of "urban corridor" increasingly nourished by cultural spaces.
"We want to have an impact on the region, which despite being an upscale neighborhood is close to Ceasa, Jaguaré, where there are poorer communities. And it's curious, but if we look from the Instituto Acaia to the Museu da Casa Brasileira, you have more than ten relevant cultural institutions. I see a cultural corridor forming," he says. In fact, between these two extremes, from the institute in Vila Leopoldina to the museum at the beginning of Itaim Bibi, in a straight line of about 7 kilometers – served by public transport and bicycle paths –, are spaces such as the Biblioteca do Parque Villa-Lobos , Instituto Tomie Ohtake, Galeria Estação and CASA Museu do Objeto Brasileiro, among others.
In this sense, the coordinator emphasizes that A Casa do Parque also intends to work in partnership with other institutions, in addition to bringing different audiences to its space, "from park goers to students from Santa Cruz College or public schools in the region". There will also be extramural activities, the first being a literary festival at Parque Villa-Lobos, held together with SP Leituras in the second half of this year.
political tension
If there is a climate of celebration with the opening of the new cultural space, as is to be expected, it seems to contrast with the critical and even obscure approach of the opening exhibition, "a reflection of the political context we live in today in Brazil", according to Chiarelli. Tension Cordial Relations brings together works from the collection of Regina Pinho de Almeida selected from a very free reading of the curator, who did not want to "choose the most famous pieces, make a chronological exhibition or even follow a line through language analogies".
"My idea was that Regina, with her collection, is writing a text about contemporary art. And I wanted to write a text on top of her text", says Chiarelli. "And given the context of the crisis, I had in mind this terrible dystopia that we are living in. And my option was to transform the exhibition space into a kind of cave, where the works would be located independently of any pre-determination".
In a dark environment, with punctual lighting and expography by Pedro Mendes da Rocha, the potency of the works – by Jenny Holzer, Hildebrando de Castro, Liliana Porter, Estela Sokol, Waltercio Caldas, Nazareno, Laura Erber and Edgard de Souza, among others – is revealed. presents independently of the possible relationships established between them. "The exhibition is not pleasant, it is very restrained and invests in the power of the works. For the audience, I think it is an experience of reflection on the current moment."
About the title of the exhibition, inspired by the work of Paulo Climachauska present in the exhibition, the curator is emphatic: "Paulo's work speaks a lot about the country and what we are experiencing today. This cordiality of the Brazilian, historically speaking, is a fallacy, a hypocrisy". "This work, which is a reinterpretation of Debret's work, shows a relationship between slaves and masters that is apparently cordial, but which is absolutely based on violence and fear. And that's what we live for today. In a sense it may seem like everything is fine, but we are in a violent tension", he concludes.
strain cordial relations
The Park House - Av. Prof. Fonseca Rodrigues, 1300, Sao Paulo
From March 23 to June 30
Free entrance