Exhibition "Murilo Mendes, critical poet: the intimate infinite"
Wed06set(Sep 6)10:00sun28January(Jan 28)18:00Exhibition "Murilo Mendes, critical poet: the intimate infinite"New exhibition at MAM São Paulo highlights the uniqueness of Murilo Mendes' work as an art critic and cultural agent Museum of Modern Art of São Paulo (MAM SP), Av. Pedro Álvares Cabral, s/nº, Vila Mariana, São Paulo – SP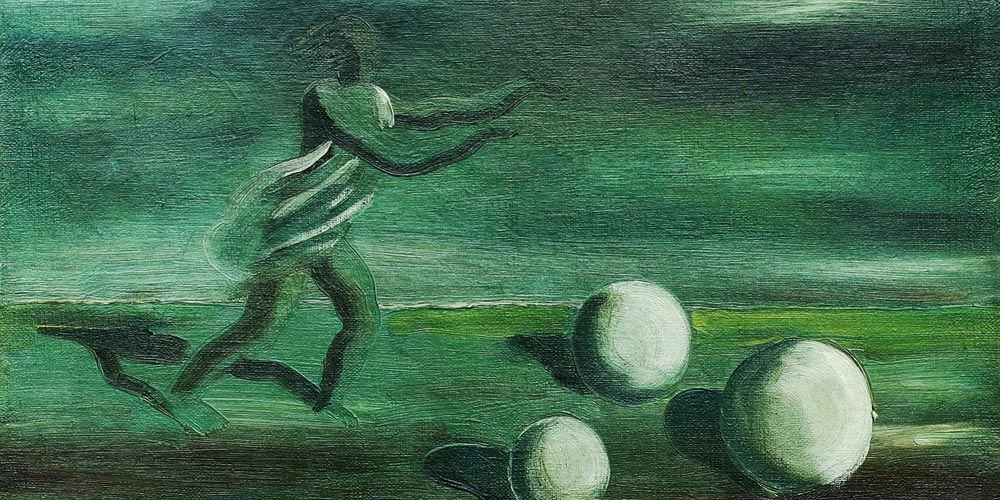 Details

Murilo Mendes (1901-1975) is among the most influential figures in Brazilian artistic life. He served as an art critic, collector, exhibition organizer and poet, and influenced an entire generation of critics and artists. This facet will now be highlighted in the new exhibition at MAM São Paulo: Murilo Mendes, critical poet: the intimate infinite, on view from September 5th to January 28th, 2024, at Sala Milú Villela.

Curated by Lorenzo Mammì, Maria Betânia Amoroso and Taisa Palhares, the exhibition recalls Murilo Mendes' critical activity through works by more than 50 artists whose stories are intertwined, in different ways, with that of the poet.

"It is with satisfaction that the São Paulo Museum of Modern Art, as part of the celebration of its 75 years of cultural and artistic activities, hosts the exhibition Murilo Mendes, poet-critic: the intimate infinite. The exhibition has the invaluable support of the Murilo Mendes Art Museum, linked to the Federal University of Juiz de Fora, in Minas Gerais, the city where the writer was born, and with its creation, MAM contributes to the research and dissemination of modern art, especially a chapter that is still little known, the remarkable performance of Murilo Mendes as an art critic and collector, both in Rio de Janeiro between the years 1920-1940, and in Europe from the 1950s until his death in 1975" , comment Elizabeth Machado, president of MAM, and Cauê Alves, chief curator of the museum, in a text that opens the exhibition catalogue.

Murilo Mendes, the critical poet: the intimate infinite brings to the public a significant set of works, formed by works by Abraham Palatnik, Achille Perilli, Alberto da Veiga Guignard, Alberto Magnelli, Aldo Caló, Alexandre Eulalio, Alfredo Volpi, Almir Mavignier, Antonio Corpora, Arpad Szenes, Axl Leskoschek, Bruno Giorgi, Candido Portinari, Carla Accardi, Carlos Moskovics, Cícero Dias, Djanira da Motta e Silva, Ettore Colla, Fayga Ostrower, Flávio de Carvalho, Foto Feruzzi, Frans Krajcberg, Franz Weissmann, Gastone Biggi , George Rouault, George Braque, Geraldo de Barros, Gino Severini, Giorgio De Chirico, Giorgio Morandi, Giuseppe Capogrossi, Glauco Rodrigues, Hans Richter, Ione Saldanha, Ismael Nery, James Ensor, Jean Arp, Jesús Rafael Soto, Joan Miró, Jorge de Lima, José Medeiros, Lasar Segall, Lívio Abramo, Li Yuan-Chia, Lucio Fontana, Marcelo Grassmann, Maria Bonomi, Maria Helena Vieira da Silva, Maria Martins, Max Ernst, Michelangelo Conte, Milton Dacosta, Oswaldo Goeldi, Pablo Picasso, Piero Dorazio, Sophie Tauber-Arp and Victor Vasarely.

Spread across newspapers and magazines, in many poems and poetic prose, Murilo Mendes' critical thought began to be organized only at the end of his life, when he compiled part of his critical texts in a volume published posthumously, The invention of the finite. In 1994, his art collection was acquired by the Federal University of Juiz de Fora, which created the Murilo Mendes Art Museum (MAMM) and has since organized exhibitions and publications about the collection.

Curator Lorenzo Mammì explains that the MAM exhibition was designed based on the poet's collection that is available in Juiz de Fora, his hometown, and that it was complemented with other artists who marked his career. "In addition to the names present in this collection, we did thorough research on the works of Murilo Mendes and added other important artists who were not there, such as Jorge de Lima and Maria Martins", says the curator. He adds that the trio of curators realized the importance of including artists such as Djanira da Motta e Silva, Lasar Segall, Milton Dacosta, Jesús Rafael Soto and Lucio Fontana, given the relationship they had with Murilo Mendes. According to Mammì, these were some relevant names that were discovered throughout the research, both in Brazil and abroad. In addition to Soto and Fontana, outside the country Murilo also had contact with other artists, such as the Italian Alberto Magnelli, who helped him think about an abstraction that was not constructive in the sense of concrete art, this being one of his differences with Mário Pedrosa .

Murilo Mendes in three blocks

The exhibition is organized into three blocks, starting by highlighting the circle of Murilo Mendes and Ismael Nery in Rio de Janeiro in the 1920s and 1930s, with some developments in the following decade. During this phase, Murilo lived with a group of artists such as Nery himself, Cícero Dias, Alberto da Veiga Guignard and Jorge de Lima, who cultivated a close relationship between visual arts and poetry, close to surrealist and metaphysical poetics, but with divergences. On the other hand, the critic opposes the dominant trends at the time, which were realists and defenders of a return to the métier, in the service of nationalism and social engagement. It's Murilo's "rebellious" phase.

"It is notable how his private art collection, which began in the 1920s with works by Ismael Nery and artists who more directly surround the surrealist aesthetic, in the following decades opened up to other names, generally artists in full swing at the time. in which the critic collects the works", comments Taisa Palhares in a text that is part of the exhibition catalogue.

The second block of the exhibition spans from the mid-1930s until his move to Italy in 1957, when Mendes was already a famous poet and a well-known critic. His range of interests expands: Lasar Segall, Bruno Giorgi, Maria Martins, Alberto Magnelli. He began to build an art collection that brought together several works acquired on his trips to Europe. This excerpt also portrays the relevant coexistence with artists who arrived in Rio de Janeiro from Europe fleeing Nazism, in particular the couple Maria Helena Vieira da Silva and Arpad Szenes. The circle that forms around these artists includes Milton Dacosta, Djanira, Ione Saldanha, Almir Mavignier, Oswaldo Goeldi, Fayga Ostrower, among others. Murilo became interested in abstractionist poetics, but did not adhere to concretism.

The third block covers the period in which Murilo lived in Rome, from 1957 onwards, where he teaches Brazilian literature at the university. There, he became close to art critic Giulio Carlo Argan, with whom he shared an interest in Italian artists who practiced non-geometric abstraction, without completely adhering to informalism. This is when he also became interested in optical and kinetic art and collaborated with artists such as Alberto Magnelli, Lucio Fontana and Soto in exhibitions and publications. At this moment, "invitations to write about exhibitions follow one another and are recorded in the texts of the catalogues; Murilo himself organizes exhibitions at the Casa do Brasil belonging to the Brazilian Embassy", says curator Maria Betânia Amoroso. In the exhibitions he organizes, he includes contemporary Brazilian artists, such as Volpi, Weissmann, Mavignier, among others.

From this last phase, the curatorship of Brazilian representation at the 1964 Venice Biennale stands out, the first in which Brazil had its own pavilion: "With this exhibition, it is expected that the space reserved for art critic and collector Murilo Mendes , both in his biography and in the history of Brazilian criticism, asserts itself and expands", states the trio of curators in a text about the exhibition.

On the large wall that connects the exhibition space from beginning to end, a set of Murilo's archives are displayed on panels, which include photographs, publications and other documents. The expographic project, designed by the UNA barbara and valentim office, establishes dialogues between each panel with the nuclei that are parallel to them. The exhibition ends with the documentary Poesia em Pânico (1977), by Alexandre Eulálio, recorded in Rome between 1971 and 1974. The 21-minute film contains one of the poet's only filmed statements.

Service
Exposure | Murilo Mendes, critical poet: the intimate infinite
From September 06nd to January 28th
Tuesday to Sunday, 10:18 am to 17:30 pm (last entry at XNUMX:XNUMX pm)
Tickets: R$25,00 full price and R$12,50 half price.
On Sundays, entry is free and visitors can contribute whatever amount they want.
Period

September 6 (Wednesday) 10:00 - January 28 (Sunday) 18:00
Location

Museum of Modern Art of São Paulo (MAM SP)

Av. Pedro Álvares Cabral, s/nº, Vila Mariana, São Paulo – SP