In São Paulo, to publicize the launch of the double CD and DVD A Crossing, 50 Years of Career Live, singer-songwriter Milton Nascimento received the report from Brazilian on the mezzanine floor of the Emiliano hotel, in Jardins, an upscale neighborhood in São Paulo. The meeting was scheduled for 18:30, and should have lasted 40 minutes. The conversation, however, began almost two hours later. To our delight, the chat lasted almost as long as Milton's "delay": 1 hour and 40 minutes.
Even facing a marathon of photos, interviews and press conferences since 11 am on that Thursday in September, Milton locked himself in a room with a reporter from another vehicle, who had the honor of taking his career albums (33 titles) for him to choose ten and comment on each of them. Reason for the "delay" for the start of our conversation.
Our idea was to draw a profile of Milton, starting from chronological episodes. But the proposal took on new dimensions, thanks to the pleasure he expresses in reconstructing, with detail and good humor, divisive events in his career. So, despite ending up expressing Milton's opinion about the so-called June journeys and the recent popular demonstrations, the following interview - due to the need for his advisor to interrupt him to rest - incidentally resulted in a rich clipping of the first half of the beautiful crossing undertaken by the artist.
By the way, even playing professionally since he was 14 years old, Bituca, as he has been called since early childhood, considers the Berimbau Trio instrumental group, formed in 1963, by him, Wagner Tiso, his first musical partner, and drummer Paulo Braga – Milton closed the kitchen holding a "fiddle", the acoustic bass.

Also in 1963, another divisive moment: he moved to Belo Horizonte and ended up "adopted" by the Borges clan, a group of 11 brothers in love with music who, together with him, made the intersection of Paraisópolis and Divinópolis streets universal, "headquarters " from the imaginary Clube da Esquina.
Brazilian - Before we get to the episode that marks his 50-year career, talk a little about his awakening to music.
Milton Nascimento – My thing has always been music. I became a professional musician at the age of 14, playing in nightclubs from 22pm to 4am. Wagner Tiso was with me, and he was only 12 years old. But we never had any problems with our families or anyone else. Every now and then we ran from the Juvenile Court, but it wasn't such a bad thing, because we hid in the kitchens and when we got there, we had french fries and guarana available.
Brazilian - Long before that, at age 5, you already had your first contacts with musical instruments.
I lived in Rio de Janeiro with my blood mother (Maria Nascimento) and she worked for a family that adored her. In the past, when the maid became pregnant, the family would immediately send her out of the house, but with my mother the exact opposite happened. So much so that when I was born I was treated like a prince. Mainly for Lilia, who was one of the daughters of the family and became my godmother and second mother. A year and a half later my mother died. I was sent to Juiz de Fora, to live with my grandmother, not because Lilia and her family wanted to, but because they thought it was the right thing to do. Turns out, for me, that choice didn't work out at all. I didn't get along with anything, I couldn't eat, I sat outside my grandmother's house, waiting for a green car to pass, Lilia's father's car. I was losing weight, getting sick and, some time later, Lilia had married and moved from Rio de Janeiro to Três Pontas, in the south of Minas. One day she arrived for my future stepfather (Josino Campos) and said: "We have to go to Juiz de Fora because Bituca is not doing well". After two months of marriage, they decided to look for me. I was sitting on the doorstep of my grandmother's house when I saw the green car approaching and started to get up. People who saw the scene say that, realizing that I was going to fall and hit my head on a sharp rock, Lilia opened the car door while it was still moving, ran out and managed to catch me before I crashed into the rock. There was a time when I went to Rome a lot and I always went to the Vatican to see the Pietà, by Michelangelo. I went every day to admire that beauty, until I learned that Our Lady, who was holding Christ, was holding a dead son. Lilia saved me, in that moment and many others. It was a Pieta for me. So much so that I decided to make an album in honor of her (Pieta, from 2002). Two other very important women in my life were Ângela Maria and Elis Regina.
Brazilian – How did you and Wagner become friends?
I always loved the piano, but we didn't have the money to buy one. It was then that my mother decided to give me an accordion. Not the one with a keyboard, but a very simple one, with four basses. I also got a harmonica and learned to play both instruments at the same time. He put the accordion on his foot and the harmonica on his knee. For a long time I stayed on the porch of my house, in Três Pontas, playing both instruments. A few years ago Wagner Tiso went to Jô Soares' show and Jô asked him how we had come together. He said that he heard me playing both instruments and thought: "I'm not going to play with my family, no – his family is all musicians – this is the one I'm going with!". After a while we met and started playing and singing together.
Brazilian – Why did you decide to leave for Belo Horizonte?
I was in high school, I wanted to do Astronomy and I told my parents that I was going to Belo Horizonte to work with music. My father insisted: "If I were you, I would study something, because making a living from music is not just a matter of talent, it is also a matter of luck". I agreed with him, but I went to Belo Horizonte thinking about both things. As there was no astronomy faculty there, I thought about studying economics. I was already a friend of the Borges, and I went with Márcio to the university, got some material about the course, to evaluate. We were going up a street, on the way back home, and I asked Márcio if he had any matches. He looked at me and was surprised: "Uh, but you don't smoke". "But I want to, and it's not for smoking!" I told him. I took the match, burned all the college paperwork, and yelled, "Long live the music!" Afterwards, we went to celebrate in a pub and got drunk. I never stopped with the music.
Brazilian - Did you approach the Borges as soon as you arrived?
They are 11 brothers and as soon as I met them I decided that I would be the 12th. They ended up adopting me. Only when I arrived in Belo Horizonte did I meet professional musicians. When I lived in Três Pontas, I listened to a lot of songs on the radio that I liked, but most of the time, the melody and lyrics were even possible to catch, but not the harmony, because the quality of the radio transmission was precarious. I even created my harmonies, but I went to see a concert by other musicians, with the Borges, and I said: "My God, I'm doing everything wrong! I need to start all over again." Then Marilton, the oldest of the brothers, told me: "Nothing! You don't have to mess with anything you do!". It was also with them that I first heard Miles Davis, the record was Someday My Prince Will Come. To this day I don't know why I did it, but one day I was with them, I played Miles' album and I had the urge to get up and shout: "That's not a trumpet, no! That's my voice!". Nobody laughed at me, nobody made fun of me, and I ended up adopting Miles as my king. I bought everything from him, learned to deal with jazz and discovered the power of instrumental music. That's when I started playing the bass and the Berimbau Trio was born, with Wagner and Paulinho Braga.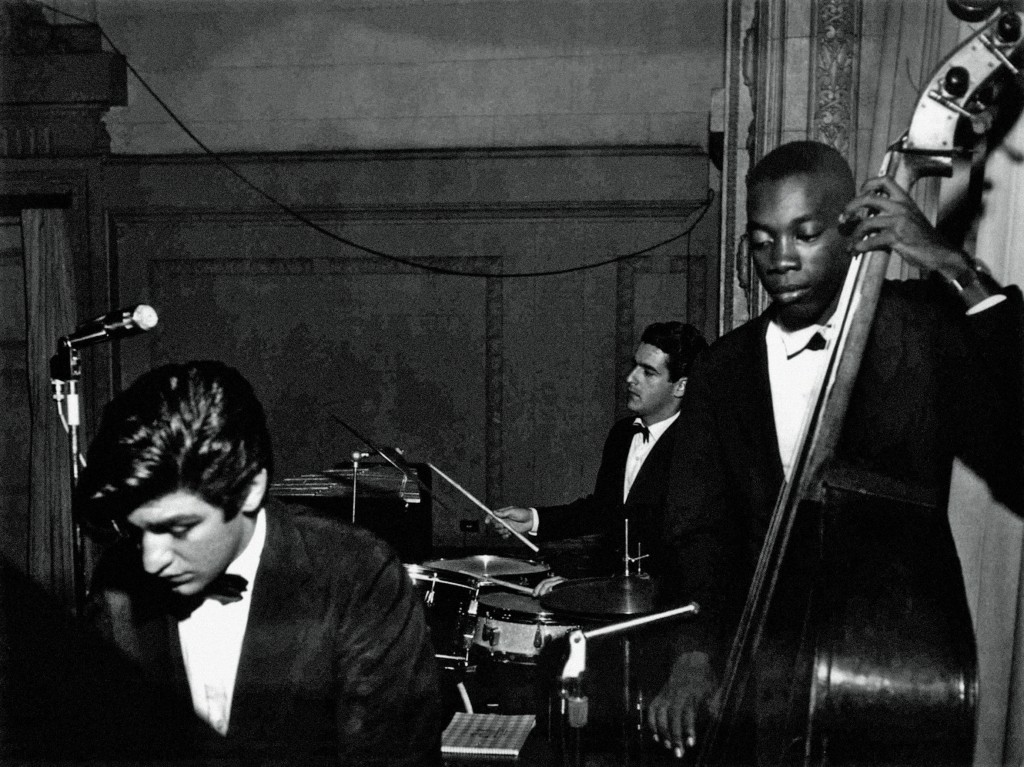 Brazilian – In the same period, you recorded with the group Sambacana, from Pacífico Mascarenhas. How did the invitation come about?
Pacifico went to record a new album, invited me, and also invited Wagner and two other musicians from Rio. The producers of a festival in São Paulo heard the recording and decided to ask me to sing. Arriving in São Paulo, in the studio there was a room with several musicians and a lot of sheet music in a corner. I walked around the room, surreptitiously looking at the sheet music, until I recognized a Baden song (violinist Baden Powell). I hid the leaves and went there to play sound with them. I returned to Belo Horizonte, and when I showed the score to Borges and Wagner, they went crazy with me, because this song was certainly intended for someone. It was empty city (by Baden and Lula Freire). Shortly after, I ended up having the good fortune to meet Baden.
Brazilian - Elis Regina encouraged him to participate in the first festivals. How did you approach?
I became friends with Elis at a party in Rio de Janeiro and we met again shortly afterwards in São Paulo. She had won the Record festival with trawler (1966), and we meet in the corridor of the station. Today I think it's funny, but at the time it wasn't fun at all. Elis was walking and I, who didn't want to be annoyed, lowered my head as I passed her. She stomped hard with her clog, turned around and said: "Hey Mineiro, you're not polite, are you?". Embarrassed, I replied: "No, Elis, I just didn't want to be one more bothering you". She replied angrily: "Stop fooling around! The business here in São Paulo works as follows: in the morning we meet a person and say 'good morning', in the afternoon say 'good afternoon' and at night say 'good night'. That simple. I want you to come to my house and show me some of your music." She gave the address and I went there. It was the week that Gil arrived in São Paulo and he was there too. I played a lot of songs. Gil used to say that I played three or four, but, he was lying, there were about 20 or so. Tired, I put the guitar down and Elis asked: "Don't you have any more up your sleeve?". Then I remembered that I hadn't played Song of Salt and she fired: "That's the one I want!".
Brazilian - Shortly after, you became averse to festivals, but Agostinho dos Santos played a trick on you, which would be a divisive one for your career…
At that time, in São Paulo, for each instrument there were about 20 unemployed musicians, including me... There was a day when I was replacing a boy in a small bar, in a dark environment, I was playing there, when I noticed a figure approaching me. I finished the song and I heard a voice say: "Hey, bug, who are you?". It was the first time anyone called me a "bug". It was Agostinho dos Santos. I recognized it immediately, because I was a fanatic, crazy about Augustine. I told him that I was from Minas, we talked a lot and he said to me: "Everywhere I go, from now on, you will come with me!". And so it was. Then we started walking back and forth together. One day he arrived at the pension where I lived, on Rua Marquês de Itu (na downtown São Paulo), and said: "Look, there will be an international music festival in Rio. There will be people from all over the world. You have to put some of your music on there." I spent a month arguing with him, rejecting the invitation, and he disappeared. I thought he had given up. One day he came back with the following conversation: "Look, I'm going to record a new album, I told my producer about you and he wants three songs from you to be part of the album". Agostinho took me to the house of a friend who had equipment and we recorded three songs: Mary, My Faith, Old Hill e Crossing. I handed over the recordings and he disappeared. Agostinho, Elis and the people of the Zimbo Trio, who played with her, Amilton and his brother, Adilson (Amilton and Adilson Godoy, respectively, pianists of Zimbo and Bossa Jazz Trio) were the people I got along with the most in São Paulo. One day I was at the door of Record, on the way out of the Elis show, and she came running, jumped on top of me and said: "I knew it!". And I: "Did you know what, Elis?". "That you would be at the Rio festival!" "No, what do you mean, I didn't submit any music?!". "So there's another Milton Nascimento walking around", she joked. Shortly after, I went down the street and heard a great laugh. It was Augustine. And he already arrived saying: "It's no use, you'll have to go! His three songs were selected and this has only happened, until today, with Vinicius de Moraes. People are eager to meet you. I met a festival representative and he said you have to go to Rio as soon as possible". "But how do I go to Rio if I don't even have money to take a bus here in São Paulo?". They paid for my tickets and booked a hotel that was very close to the festival.
Brazilian - And how did the thing unfold?
I went there to talk to Marzagão (o producer Augusto Marzagão, creator of the International Song Festival), he had a secretary, and I said to her: "I need to talk to Mr. Marzagão". Indifferently, she replied: "I don't think it will work, because he is very busy today. Maybe you can leave a message and he'll arrange a meeting." So I said to her: "So, please let him know that Milton…". She didn't even hear me talk about Nascimento, because she ran to his room and shouted: "Milton Nascimento is there!". Marzagão and everyone who was there to see me and receive me left the room. I was in tremendous shame. That's when I met Eumir Deodato, who arranged the three songs…
Brazilian - And he was the one who convinced you to sing, wasn't he?
Eumir told me later that when they started to play my songs there were those who said "take it away!". Someone went there, answered the request, and he took the recordings to his house. The next day, Eumir returned and said to Marzagão: "But you will never take these songs out of the festival!". We became very good friends and, soon after, he introduced me to Tom Jobim and several other musicians. A few days later I was at his house, playing the guitar, he was writing the arrangements, and I confessed: "Eumir, the thing is: everything is perfect, but I don't want to sing. I wanted Elis to sing, but Record wouldn't let her. We need to think of someone." He replied, without hesitation: "Here's the thing", I say: I'm going to the United States tomorrow and I won't be back anytime soon. Decide now if you're going to sing or not, because if you don't sing I won't arrange your songs". I had no choice.
Brazilian - Eumir had left for the USA, at the invitation of Luiz Bonfá, and shortly afterwards he invited you to record an album there…
Yes but Tom Jobim also invited him to arrange the album with Sinatra (the album Francis Albert Sinatra & Antonio Carlos Jobim, released by Reprise Records). For me, it was a very crazy thing, because I "appeared" in 1967, after passing through Minas Gerais and São Paulo, and ended up in Rio. When I realized I was in the US recording with none other than Herbie Hancock.
Brazilian - Was it Eumir who introduced you to Herbie? What memories do you have of the recordings of the Courage?
MN - No, it wasn't Eumir. I was in Rio, and some musicians said: "Look, Herbie is in town, he came to spend his honeymoon, let's look for him". I failed, "Oh, what is it? The guy comes here for his honeymoon and we're going to piss him off?!". A few days later we went to a place where he was playing the piano, with several musicians, and I stayed a little away. I was invited to a soup, I got up the courage and started playing Afternoon. Herbie interrupted me with a "wait a minute", went to get a tape recorder, came back and said, "Now, yes. Here we go! Play it, Milton!". I touched Afternoon and then, October, a song of mine that he loves. The following year we were together in New York. I didn't even suspect that a studio like that could exist, it was owned by a German (Verve sound engineer Rudy Van Gelder, actually American). Crazy! There was room for a band of Marines with a symphony in that studio. We recorded the record during the winter, and it was all very beautiful. Producer Creed Taylor (who later founded the label CTI Records), gave me the greatest strength. Eumir was also very generous and took care of everything.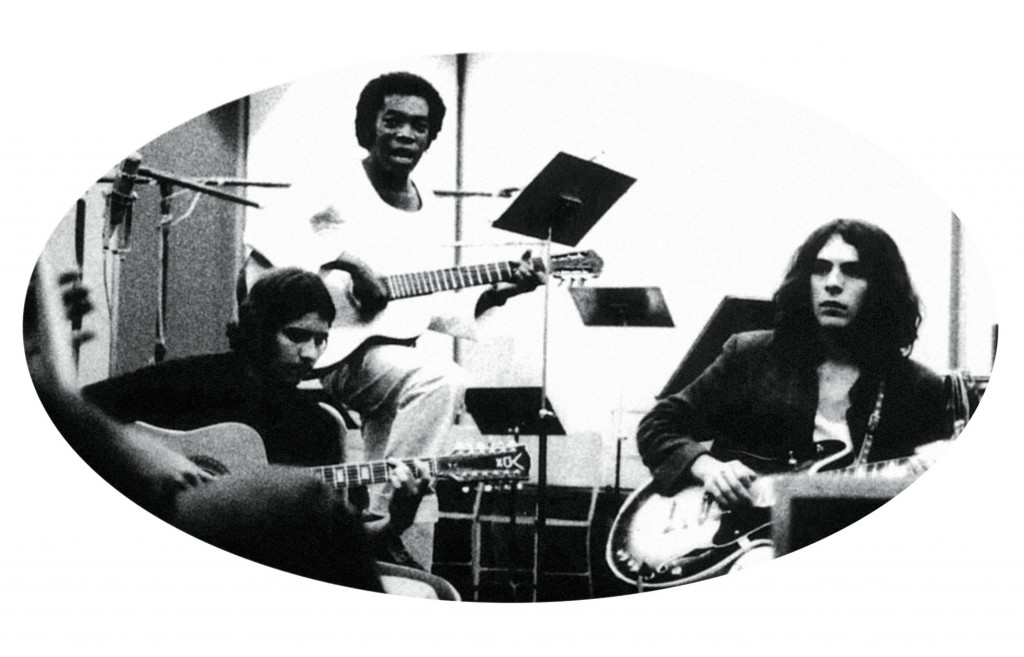 Brazilian - And how did you and Lô Borges get together to compose the songs immortalized in Clube da Esquina? By the way, you have a bottom that reproduces the cover photo, I imagine it must be one of your favorite albums of your career.
Lô was 10 years old and played in a band that made several versions of the Beatles. The boys' quartet was very good. I always went to Belo Horizonte to visit the Borges. One day, when he was about 14 years old, I arrived there and there were none of his brothers at home. Just as I was leaving, Lô arrived. I said to him, "How nice to meet you! Let's go to the bar, and I'll have a lemonade and you can have a guarana with me". When I got there, I asked for my beat and Lô added: "Another one for me!". He took that tremendous look of disapproval, but said: "Bituca, I love the things you do, I'm a fan of your voice, but there's something I need to complain about. I know very well that you, my brothers and your friends don't like me." "What is it, Lo? How so?!" I said to him. "That's right. You guys go out every night, you go everywhere, and I've never been asked to go out with you guys," he said. I looked at him and said: "The problem is the following, Lô. Do you know when I found out you weren't a little kid anymore? Just a few minutes ago when you asked for this lemon shake." He smiled, said that he had written some songs, that he had written some harmonies, and asked if I would like to hear them. We went back to his house and Lô started to play some very beautiful things. I picked up a guitar that was beside me, lowered my head, closed my eyes and started playing one of the songs with him. When I opened my eyes there was his mother (Maria Fragoso Borges), leaning against the doorframe, crying, emotional, and Marcinho writing a letter. It was our first song together, Clube da Esquina 2, named after the corner that the neighborhood hated.
Brazilian - And how did the negotiations with the record company take place to release the album?
From that day on, Lô started writing a lot of songs, until I told him: "Let's go to Rio to make a record, Lô". Of course, I had to have a little argument with his mother, but I took him to Rio and we wrote a lot of other songs. We returned to Belo Horizonte to look for Beto Guedes, and one fine day I concluded: "I think we have a record. And let's give him the name of Clube da Esquina". I went to Odeon, which is now EMI, explained how I intended to make the album and was told: "No, not at all. This is not where you're going to make this record, Milton!" He told them: "Okay, if you don't want me to make the record around here, there are a lot of labels out there. Bye to you".
Brazilian – And how did you reverse that?
There was a guy at Odeon, Adail Lessa (then executive producer of the label), his nickname was "Father of Musicians". In 1958, João Gilberto, Tom Jobim and Milton Banana went to Odeon to present some songs and the directors didn't give a damn. Lessa opened the studio at dawn, hired an orchestra, called João, Tom and Milton, and made the first recording of what would become the Chega de saudade e Bim Good. The next day he put the record to play and said to the directors: "That's what you didn't want to record!". He was the one who called me and said: "You can send everyone here and I'll open the studio for you. I'm sure you guys will do something beautiful." And that's how the album came about.
Brazilian - His later solo record, Miracle of Pisces, was mutilated by censorship. What was it like to face those dark days?
It was terrible. I returned to Brazil and noticed that several friends were leaving, being expelled from the country, and I thought: "I'm not leaving, seeing everything that is happening here. I can not go out. If you want to send me away, then send me, kill me, but I will not leave." In 1973, I had two songs that I wanted to record with Caymmi and Clementina de Jesus, but it was an impossible thing, because the name Milton Nascimento was enough for the censorship to come and cut everything without even reading the lyrics or listening to the music. . Full chase. Odeon even suggested that I record another record and I said: "No, the record will come out anyway. Anyone who has the sensitivity to understand what we wanted to convey will feel it". It's the Miracle of the Pisces It came out all mutilated, but it was felt the way we intended. At the same time that they cut our ideas and all the happiness that was being for us to make the record, everyone who heard it felt what happened there. The record came out in several countries and the message was given. So, who lost, in the end, were the censors and the military.
Brazilian - But did you suffer interference that went beyond the artistic issue?
Yes, there were many episodes. Terrible things I'd rather not talk about. I couldn't talk to anyone about what was going on as, for my own good, I was advised not to say anything. In order to continue singing I had to join the UNE students and travel around Brazil on the university circuit. I had to leave the scene for a while, about two years, during which I couldn't play in Rio or São Paulo. It was terrible.
Brazilian - Was it during this period that you started having problems with alcohol?
Yes. In those 20 years when I couldn't talk and do almost anything, the only thing left for me was drinking a lot. How was I going to live?! One day I was returning from the Jockey Club, I went to meet a friend of mine and, when we were returning to Barra da Tijuca, I saw other friends leaving the beach, all dressed in colorful clothes, happy and, for me, it looked like there was a dark glass that separated me from that colorful life. I took a walk along the beach and said to myself: "These people don't deserve me to kill myself". I went to my apartment and decided I was going to stop drinking. I spent three days locked in my room, lying down and looking at the ceiling. There was a lady, Maria, who made food for me, but I didn't even want to know about feeding myself. On the third day, in the late afternoon, I sat up in bed, stretched out my hands and saw that they were not shaking. I decided to get up and realized I wasn't going to get dizzy. I left the room, found the cook and said: "Dona Maria, do you have something to eat?". She said, "Thank God, my son!" I left home at dawn and went to Três Pontas. When I arrived, my mother was at the window. I unloaded my things, went into the house and she said: "Leave everything there and come with me". I walked through the house with her and we went to the orchard in the backyard. When I was little, I planted an orange tree with a friend and it never bore fruit. That day, two oranges appeared, and I commented to my mother: "Damn, this crap finally decided to give us a present". She looked right at me and said: "It's because you stopped drinking, Bituca". A crazy thing, because she still didn't know what was going on. We've always had a very strong bond.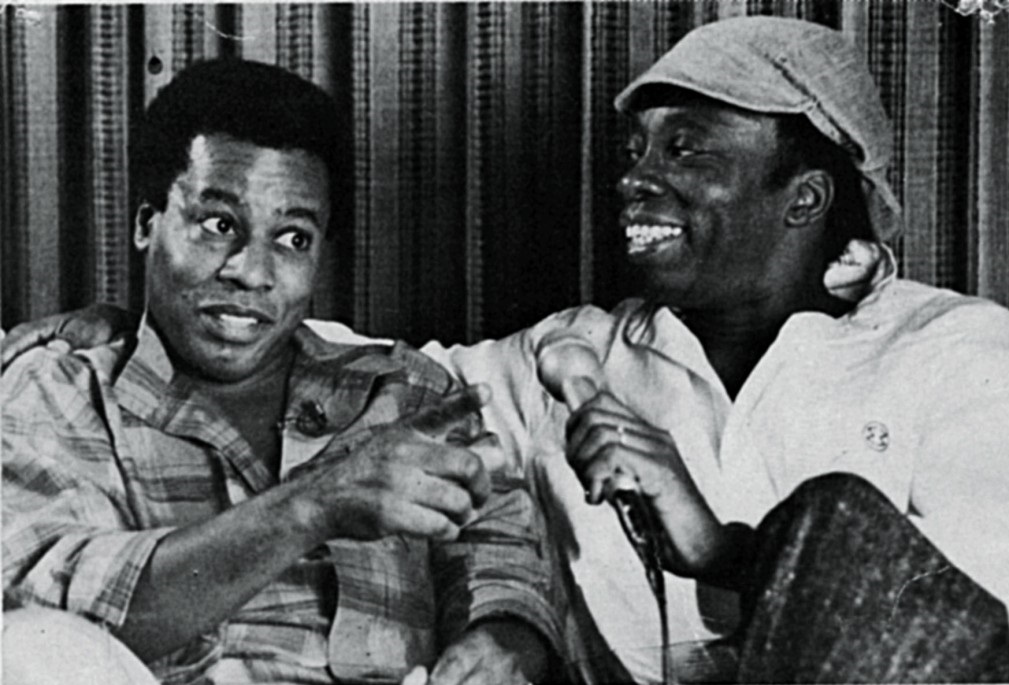 Brazilian - Returning to his discography, the album after Miracle of the Pisces, native dancer, was made with Wayne Shorter, who recently turned 80. You are still friends. How did you approach?
We're big friends. In 1973, we were doing a series of shows at Lagoa Rodrigo de Freitas and he was in town performing with Weather Report at the Municipal Theater. I heard that they asked where Milton Nascimento was and I asked them to tell them that I was not in Rio. It turns out that Wayne's wife was Portuguese, one day she opened the newspaper and there was something like "Milton Nascimento and Lô Borges present in Rio de Janeiro the repertoire of the new album, Clube da Esquina". She ran out of the hotel, looking for Wayne, and said: "Look at this, Milton is in Rio, these sons of bitches are deceiving us!". That same night, I was getting ready to go on stage and someone came up to me and said, "Wayne Shorter is there and wants to see you." Too shy, he said: "So, today I won't even go on stage". Not only was Wayne Shorter, he had played with my biggest idol, Miles Davis. I went in, we did the show, and I went to meet Wayne. After that first meeting, a curious thing happened, they shortened the time of their concert at the Municipal and left a car hidden in the back door. The Weather Report show was over and there wasn't even an encore, as they took the car and ran out to see at least a part of our show. Two years later we did, in the United States, the native dancer. He asked me if I wanted to invite any Brazilian musicians and I decided to take Wagner and Robertinho Silva.
Brazilian - The overcoming of alcoholism coincided with the political reopening, when you composed Student's Heart, which became an anthem of Diretas Já! How did the song come about?
MN - Silvio Tendler made a documentary called Jango and I was invited to compose the score, with Wagner. When the film was ready, Silvio called us to watch it and it was that thing that moved us a lot. The end shows Jango in tremendous solitude, on crutches, on his farm, and this scene reminded me of the time when I was walking with the students. The song that would play in the scene didn't have a name yet. Student's Heart. A few days later I received a call from a friend who was in Rome and was feeling sick, he couldn't concentrate and study properly there. I told him to come and spend a few days in Brazil, because here he would be able to isolate himself and immerse himself in his studies. I booked a room, an office, and pretended it didn't exist. One day he arrived so tired that he sat up in bed and fell hard. I took a notebook, went up to the second floor of the house, and wrote the lyrics, in one fell swoop. Finished the lyrics, I sank down on the sofa and, looking up, I saw a plant that had leaves similar to hearts and that, because of that, has the name of student heart. That's when I had a snap and I thought, "This is it. Now the music is ready!".
Brazilian - Almost 30 years later, historic insurrections take place in the country. What do you think of these demonstrations, Milton?
I got a fright, which later turned into happiness. I never thought something like this would happen so soon in the country. Seeing young people, families, children, older people, the entire student body taking to the streets to demand what they are entitled to… For me, it was a huge happiness to be able to see this happen. At the height of the demonstrations, there was a show of mine in which, in the middle of a song, a boy invaded the stage and put a Brazilian flag on my back. The audience reaction was beautiful. Shortly after, they threw a shirt onto the stage, without my noticing. When it was time for the encore they came to show it to me. On the front, there was the phrase "It's not just for R$ 0,20" and on the back "Milton Nascimento". I put on the shirt and sang three more songs.