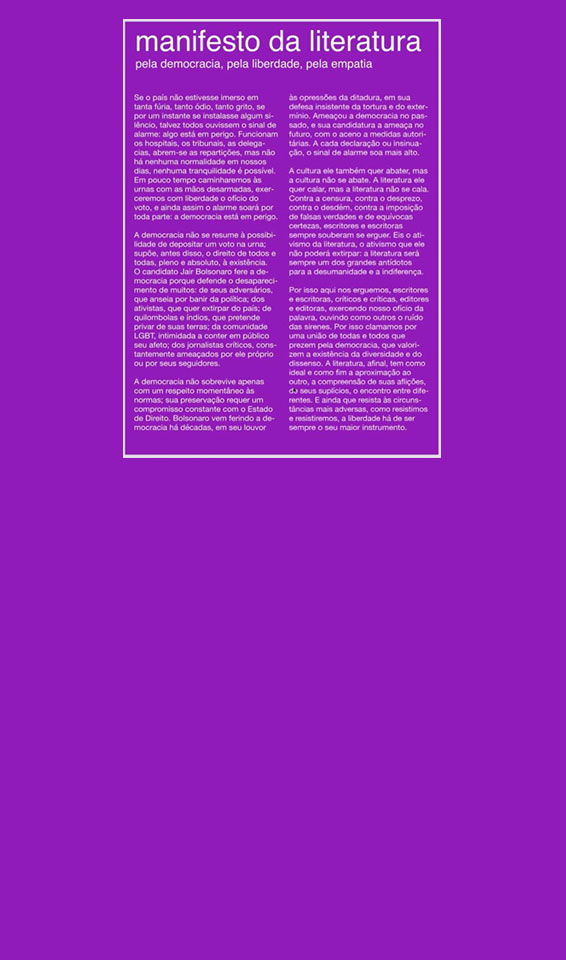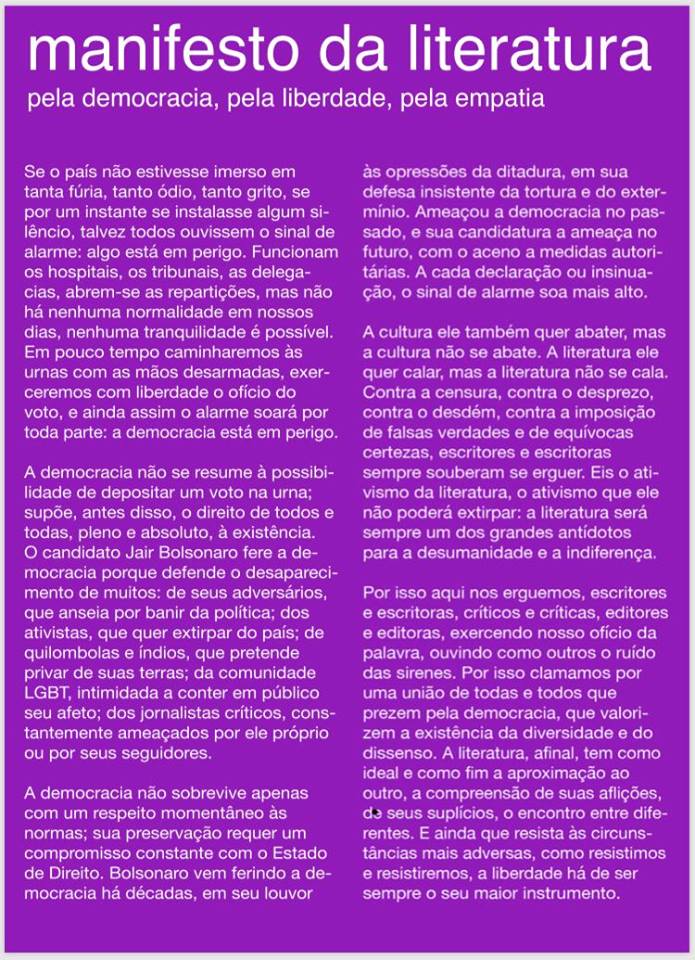 The writer, literary critic, and translator of several titles - some present in the indications from the category "must-haves", Julián Fuks, published on his social networks the "Manifesto of Literature for Democracy", written by him.
The text positions the subscriber literary class in face of the democratic fragility established by the country's political scenario, which is approaching the 2nd electoral round.
"Given the debacle that seems imminent in these elections, I was asked to write this 'Manifesto of Literature for Democracy', to be subscribed by writers and other book professionals", wrote Julián.
Names such as Raduan Nassar, Chico Buarque, Lygia Fagundes Telles, Luis Fernando Veríssimo, Roberto Schwarz, Diamela Eltit, Mia Couto, Bernardo Kucinski, Gregorio Duvivier, Alberto Martins, Maria Betânia Amoroso, Mirna Queiroz, among many others, signed the Manifesto. To subscribe, go to link.

Fuks also calls for an act at Tapera Taperá, in São Paulo, on 26/10, at 19pm. "To gather strength and words, and to face together this horror that confronts us. Sooner or later, democracy, freedom, empathy will prevail", he concludes.
Check out the full text:
Manifesto of Literature for Democracy
"If the country were not immersed in so much fury, so much hatred, so much screaming, if for a moment there was some silence, perhaps everyone would hear the alarm bell: something is in danger. Hospitals, courts, police stations work, offices open, but there is no normality in our days, no tranquility is possible. In a short time we will walk to the polls with unarmed hands, we will freely exercise the office of the vote, and yet the alarm will sound everywhere: democracy is in danger.
Democracy is not limited to the possibility of casting a vote in the ballot box; it presupposes, before that, the full and absolute right of everyone to existence. Candidate Jair Bolsonaro hurts democracy because he defends the disappearance of many: of his opponents, whom he longs to banish from politics; the activists, who want to uproot the country; of quilombolas and Indians, which they intend to deprive of their lands; the LGBT community, intimidated into publicly holding back their affection; of critical journalists, constantly threatened by himself or his followers.
Democracy does not survive with just a momentary respect for norms; its preservation requires a constant commitment to the rule of law. Bolsonaro has been hurting democracy for decades, in his praise of the dictatorship's oppressions, in his insistent defense of torture and extermination. He has threatened democracy in the past, and his candidacy threatens it in the future, with the nod to authoritarian measures. With each statement or insinuation, the alarm bell sounds louder.
He also wants to overthrow culture, but culture does not. Literature he wants to be silent, but literature is not silent. Against censorship, against contempt, against disdain, against the imposition of false truths and equivocal certainties, writers have always known how to stand up. This is the activism of literature, the activism that it cannot eradicate: literature will always be one of the great antidotes to inhumanity and indifference.
So here we stand, writers and writers, critics and critics, editors and publishers, exercising our office of speech, listening like others to the sound of sirens. That's why we call for a union of everyone who values ​​democracy, who values ​​the existence of diversity and dissent. Literature, after all, has as its ideal and purpose the approach to the other, the understanding of their afflictions, their tortures, the encounter between different people. And even if it resists the most adverse circumstances, as we resist and will resist, freedom will always be its greatest instrument."