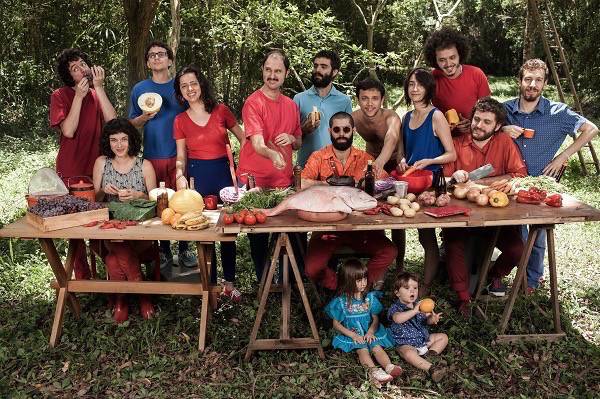 In the recent history of Brazilian music, groups with extensive formation hardly maintained longevity. A noneto, the group Abolição, led by the pianist Dom Salvador, lasted only two years, but bequeathed a masterpiece, the album Sound, Blood and Race, 1971. Nine years later, the Banda Sabor de Veneno, composed of 14 musicians and led by Arrigo Barnabé, was the dynamo that gave life to the anarchic Clara Crocodile. The group's discography, however, ended there. On the other hand, challenging the complexity of coexistence between 13 artists, the São Paulo group Trupe Chá de Boldo celebrates ten years of sound, road, three authorial albums, Bárbaro (2010) morning ship (2012) and Present (2015), and affinity-based partnerships – among them, Fekibuk Court, by the tropicalist Tom Zé.
In the package of celebrations for the first decade of the Troupe, a series of concerts and an album of reinterpretations of composers admired by the band are foreseen, in addition to the recently released Gift for Travel (listen up), a work that features dub versions, mixed by New York producer Victor Rice, of the album Present, the band's most recent, dedicated to Rayraí, trumpeter, harmonica player and clarinetist, who died in 2015 as a result of cancer.
To reverberate the fraternity that exists among the members of the Troupe, we proposed an interview to the band in an unusual format: 13 questions drawn between them. The result of this "lottery" follows.
CULTURA!Brasileiros – How is it possible to establish democratic decisions in such a diverse group? By the way, is it correct to say that the Troupe is a plural band, or was your approach more due to affinities?
Gustavo Cabelo (guitar) – I don't think affinity is the most accurate word. What really unites us is friendship. It is a very great love relationship, a love that overflows. Disagreements and differences will always exist, but everything is resolved in the most horizontal way. Perhaps this is possible due to the absence of a boss, or the lack of desire to pretend to be a leader. Friendship annihilates hierarchies. The will to do moves us forward when small or large issues arise.

Is making a living from music in Brazil viable for a band with 13 members?Leila Pereira (voice) – Making a living from music in Brazil is difficult. Whether for a solo artist, a small band or a big band like ours. Especially in the times we live in, in which the cut of resources to finance the most diverse artistic projects is increasingly frequent. Perhaps that is why each member of the Troupe works in parallel in other activities, whether in the field of the arts or outside it. The interesting thing is that, at the same time that the difficulty limits our field of performance as a band in a way (after all, we've been trying to tour other Brazilian regions, like the Northeast, for example), it is the basis founder of Trupe, as it contributes to diversity, which is essential to our musical production.
Does the sociopolitical reality of the country influence the musical production and the behavior of the band?
Julia Valiengo (voice) – Trupe always seeks to position itself in relation to major sociopolitical issues, not only through music, but also by expressing itself with photos, videos and texts. No wonder we recorded on our last album the songs Young Tyrant, Beast Prince (Black Leo) and My horny is another (Gustavo Galo, Ciça Góes, Felipe Botelho and Marcelo Segreto). Both talk about very current issues and translate some of our annoyances. The song in the bottle (Julia Valiengo, Gustavo Galo and Paulo Cesar de Carvalho), from morning ship, for example, is a love song, but it makes clear our willingness not to accept what annoys us. Above all, being an independent band and having the freedom to decide every step we want to take is also a political position.
What predicates were decisive to define the artists and the repertoire of the new re-reading project?
Pedro Gongom (drums) – Like almost everything we've done so far, this decision has a lot to do with the band's affective space. We were a trio in the beginning and we grew until we became the current 13. In the same way, in our trajectory, we always tried to bring in some dear artists who passed by. For this project we stopped to remind everyone who had already done things with us, participated in disco, show. All the artists the Troupe has dated. After that we discussed hotly for another 40 hours.
If you had to mention one memorable moment for the band, what would it be?Guto Nogueira (percussion) – We will never forget the amazing feeling of seeing the city night (São Paulo) invade the stage of the Ibirapuera Auditorium. That gigantic gate slowly opening, slowly revealing that absurd image of the park's garden and, in the background, the city's skyline… It was incredible!
If you had to mention one episode to be forgotten by the group, what would it be?Marcos Mumu (tenor sax) – Once we went to the Rede Globo studio to record a song for Programa do Jô. They set up a stage, filled the audience space with very young kids, who didn't know our sound, and ordered them to scream like they were fans. "If you don't scream out loud, you won't get the sandwich in the end", said a voice coming from the speakers. As if the embarrassment wasn't enough, in the middle of recording the director decided he wanted another song, not the one we had agreed with them and rehearsed. The following week we were told that "due to a technical problem" the recording would not be aired. Globe standard of quality.
Do you believe that it is possible to label the band's sound in a consolidated musical genre? If so, what genre would that be? If not, why is it not possible?
Cuca Ferreira (baritone sax) – I believe that currently gender in Brazilian music is not even a musical issue anymore. There are many artists, with musical and personal histories that, despite having a lot in common, end up bringing a variety of influences and endless proposals. But if there is a need, the explanation of the sound is well defined in the lyrics of the song splix. morning ship:
SambaRumbaCumbiaGuarañaPopPunkPolkaIndieRockAmyMpbMiMaiorTomzé!
In these ten years, is it possible to say that you and other artists have created a music scene that represents the generation to which you belong? In this context, what is the place of the Troupe?
Felipe Botelho (bass) – Our generation had to build a new way of producing music and relating to the public. Musical creation itself has been transformed by this new scenario, and I think we reflect that. Within the São Paulo scene, some artists are breaking barriers of independent music, flirting with a wider audience and with more traditional media, putting songs in soap operas, for example. The Trupe still remains an independent band, which is great. Despite in the bottle having played on TV and having arrived in several places in the country, we still have a more underground place. Not only because of the difficulties of having a band with so many people, but also because, despite being a pop band, we have a more experimental, less commercial side to our sound.
How is it possible to unify the group's individual propositions when defining the arrangements?
Remi Chatain (alto sax) – The arrangements are largely made collectively during the band's rehearsals. There is no rule, no fixed methodology. Sometimes someone comes up with a groove idea, a bass line or guitar or an instrumental part to experiment with the woodwinds and things don't always come together. Hence it is necessary to discard ideas and bet on others. Often the choices lead us to completely different ideas.
The band collaborated with Tom Zé, including in authorial partnerships. Which artists from other generations awaken in you the same desire for dialogue?Ciça Góes (voice) – This generation thing is delicious. In the proximity between them the difference is very much in the face and at the same not when you and the other person are drinking from the same bottle, reading the same headline in the newspaper and looking at each other afterwards. One thing to celebrate. In this sense, we can say that we would like to play with Arnaldo Antunes, or with Pepeu Gomes, for example, but also with unknown people and whose sound we still don't know.
What impacts did the loss of friend Ray have on interpersonal relationships and the band's creative process?
Rafael Werblowsky (percussion) – I think it's easier to talk about his presence. Ray was kind of grumpy, at the same time he had a lot of humor. He played the harmonica, trumpet and clarinet and had a great knowledge of music theory. I think in the years he was with us, he enriched the band's sound. He always came up with good ideas for arrangements (that of if i stop, morning ship, for example, was almost entirely thought of by him), not to mention the part of the conviviality, the friendship. About death, it is more difficult to talk. O Presente, our latest album, is dedicated to Ray.
In the next ten years, is it reasonable to envision that you will be together? Tomás Bastos (guitar) – Well, reasonable I think it is, but I prefer not to project so much. I'm not saying that we won't be together, but that maybe it doesn't matter so much to think about that distant future. The biggest challenge is the everyday construction, maintaining a horny daily renovation. As Iara Rennó sings in one of her new albums "at each dawn I am a new one, a little more every time". Now, thinking that we are 13, this renewal of the group and each of the individuals takes on other proportions. It comes as a giant force within our collective and somehow it is a trigger, it moves our sound, it makes us never know exactly what we are, or how we are. I think of a band as a bit like dating, only between a lot of people, and I think that the projection in general can go wrong. Personally, I can say that I want to make sound within this collective until the end of my life, but I know that if that happens it will be in a way that neither I nor anyone else in the Troupe can imagine.
In terms of creative influence, are there artists who are unanimous in your eyes? Who are they?
Gustavo Galo (voice) – Unanimity is something very far from the Troupe. We are always on the move, animated by tensions, dissonances. Even in relation to the so-called influences. They vary greatly between band members. At times we got closer to certain artists. And often a friendship is born that greatly affects our work. So, for an artist to influence the Troupe, in addition to the work he develops, he has to live together, he has to be horny to be together.
MAIS
– See the clip below in the bottle, from the album morning ship