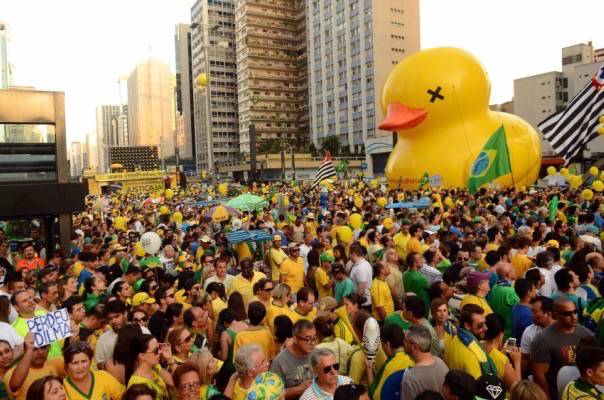 One of the facets of the "cultural war" between the left and the right that Brazil is currently experiencing is the widespread criticism of the human sciences. Two sets of criticisms can be read and heard in the most diverse media and social spaces: extreme right-wing public opinion, the crude right-winger, thinks that the human sciences "are a den of leftists", or "leftists", as they prefer to say. The liberal right, which wants to be more civilized, claims that the humanities are simply useless and waste precious money from research agencies and precious hours from students who fail to learn what matters in elementary and higher schools.
Come on. First of all, I am sorry to say that the humanities have not long been a "den of leftists or revolutionaries on duty", if they ever were. Today, Marxism is one among many theoretical-methodological possibilities accepted, as it has always been. Gone are the days of the "methodological patrols" so present in the 1970s and 1980s. Obviously, these considerations are of little use to the law, for which everyone who defends human rights, a secular state and does not get hysterical in the face of a feminist discourse, is a leftist radical. It's true that drunken booing isn't worth it. However, it makes a lot of noise.
As for uselessness, I must say that it is not exclusive to the human sciences. Just take a look at the hilarious Ignobel Prize website that rewards real and, at first glance, completely useless research in several noble areas of the world. hard sciences. But since I've been in the university business for a while, I always think there might be some unheard-of future use in researching how cats and dogs position themselves to urinate in relation to Earth's magnetic lines, what rocks' personality is from a sales perspective. or how the Bulletin of the Kardecist Society of Ximbica da Serra represented the Russian Revolution of 1917 (I only invented the last one, excuse me Kardecists and Ximbiquenses…). The prize's motto is to award "unlikely research that makes people laugh, and then think". Despite the risk of endogeny, it is necessary to trust peers to assess the relevance of a research topic, and it is up to the university to communicate better with lay society to convince it of its importance.
Nor can the humanities be accused of being the villain of spending on science and on postgraduate studies in Brazil. Data from 2016 indicate that around 10% to 12% of CNPq and FAPESP funds are directed to this area. For the price of four scanning electron microscopes, it is possible to sustain a postgraduate program in history or social sciences, giants such as those at USP, for a year.

The fact is that it is not uncommon, in the academic environment itself, even in public universities, to hear from the small mouth (and the big mouth) that the human sciences do not carry out research, do not generate patents, and have "only" a vocation to train professors and teachers. doing extension activities, something prejudicedly seen as the "soup for the poor" of the surroundings.
There is also the other side of the coin. Many respectable colleagues think that only the Humanities are capable of thinking about society, which is a gross exaggeration. Personally, I don't want historians and poets to think for engineers, but I would like engineers to think like historians and poets too. The country, engineering and history would only gain from that.
If we want a country with the capacity to formulate effective public policies, aware of its economic interests and geopolitical position in a complex world, of a student and a worker who can be something more than repeaters of mechanical tasks, we need the humanities in research. and in education. Regardless of the left/right debate, which if well placed can even be very productive (which is not the case in Brazil today, unfortunately), the human sciences have a role to play in society.
How to develop health policies, social inclusion policies, security policies, cultural policies, transport and energy policies without the help of sociology and anthropology? How to ground the debate on political reforms, constitution and citizenship, without political science? How to know the legacy or dismantle the institutional traps placed by the past without history? How to develop agricultural, agrarian, urban, housing, environmental preservation policies, without geography?
Yes, it is possible for a government to develop all these public policies without useless research in the humanities. How? Letting corporations and bureaucracy produce studies and formulations or importing research from millionaire consultancies and international agencies not always independent of the economic and financial interests that govern the world. Not that the university is exempt from this risk, but a research environment in a public university, or even a private one, but guided by community management, financed from clear criteria of quality and relevance, examined by peers and controlled by civil society, still it is the best way to produce science and knowledge. In fact, this is already being done by Brazilian universities. If politicians and public managers do not use this "public and free" knowledge as they should, that is another story. It says more about our governors, bureaucrats and parliamentarians than about our university.
For those who think that the quality and relevance of academic knowledge is measured by market insertion, they should take into account that the human sciences also have great potential in this field. In addition to consolidating a community of readers, media and print consumers, the strength of the humanities has a direct impact on the tourism industry, journalism, the publishing industry, and indirectly on the so-called "creative economy" (advertising, games, design, fashion) . Therefore, it is not about responding to these demands by killing research and transforming human science courses into generic schools. It is true that course curricula must be updated, as it is also true that pure research, "useless" for some, should be better articulated with applied research and the development of S&T. For my part, as a professional researcher and professor in the Humanities area for over 30 years, I accept this demand.
These changes would imply building a new level in the relationship between research, teaching and extension, and not destroying the very concept of research in the humanities from the separation of university professors in the area among a select group of researchers. full time and a mass of hourly professors in crowded undergraduate halls. The humanities area, in Brazilian public universities, has consolidated its identity and vocation: research and teaching articulated and inseparable. And despite the difficulties, it is a successful model, although it can be improved and revised. For example, in the latest trending list QS World University Ranking seven undergraduate courses at USP's Faculty of Philosophy, Letters and Human Sciences are among the 100 or 150 best in the world, which is not small for a Faculty with 10 undergraduate students, 3 graduate students and for a country without university tradition. And all these undergraduate courses, by the way, have graduate programs connected to them that are considered "of excellence" by CAPES and internationally recognized.
But we know the culture war against the humanities is far from disinterested, merely concerned with the "indoctrination" of poor, near-teenaged students by malicious teachers or with the squandering of precious public money that could go to the primary surplus and make investors happier. It is a conception of country, science and education that is at stake, and that came to the fore in an overwhelming way in this tactical alliance between the authoritarian right and the liberal right that took over contemporary Brazil.
In teaching, the war on the humanities has produced other superficial criticisms. For example, that the high school curriculum is full of uninteresting "trinkets" for students, diverting from what really matters to learn in today's world: Portuguese, mathematics and English. The curricular integration of subjects, interdisciplinarity, flexibility and student protagonism, especially in high school, are important proposals, but they cannot be implemented based on the virtual exclusion of the humanities in high school.
But this subject is for a future text.