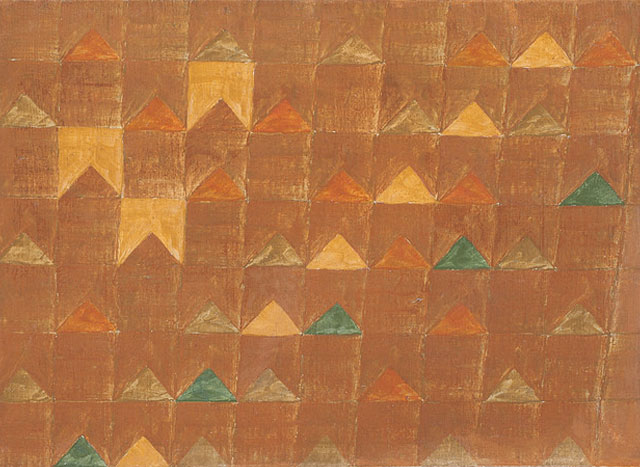 On the streets of cities in northwestern Italy and on the southeastern coast of France, it is possible to find advertisements with images of works by Alfredo Volpi, the Italian who at the age of two moved to Cambuci, a traditional neighborhood in São Paulo, in 1898. advertising draws people's attention to the exposure Alfredo Volpi - La Poétique de la couleur (The Poetics of Color), which runs in the city-state of Monaco until May 20. Open at the Nouveau Musée National de Monaco since February 9, the exhibition with approximately 70 works by the artist, produced between 1940 and 1970, has left the public dazzled.
With little diffusion outside Brazil and Latin America, it can be said that Volpi is still being "discovered" in Europe. This explains the surprise, followed by delight, that its famous organizations of little flags in tempera, among other expressions, have caused in the local public. Abroad, he is being considered "the most beloved Brazilian artist of the XNUMXth century" and has also been called by specialized art vehicles a "hero" and Brazilian "pride". This diffuse characteristic of the exhibition in Monaco is considered "educational" by the director of the Volpi Institute, Pedro Mastrobuono.
Although his works were exhibited at the 1962 Venice Biennale and in European galleries, this is the first time that a solo exhibition by the artist has taken place in a public institution outside Brazil. This is thanks to a great effort that the Alfredo Volpi Institute of Modern Art has made, and also to the support of Galeria Almeida e Dale.
The positive impact caused by Volpi's works has already reached major collectors and Monegasque royalty. Princess Caroline of Hanover, who opened the exhibition, expressed in interviews her admiration for the artist and the enchantment that the works caused her. Curator Cristiano Raimondi, head of Development and International Projects at the museum, is attentive to the signs of influences that the self-taught painter had from great European artists such as Matisse and Cézanne.

In addition to the exhibition in Monaco, Volpi also has some of his works, selected by Luisa Strina, displayed at Sotheby's gallery S|2, in London. Despite not following a defined school, he has his work characterized there as an "exploratory modernism". In this way, his show is also accompanied by an exhibition by the Italian Bice Lazzari. In addition to the show, which ends on March 29, the famous house will hold an auction with works by the artist, with sessions on April 13 and June 29.