Adespite the premise to talk about the role of women as fiction writers, A roof of your own, published by Virginia Woolf in 1929, brought together texts that focused on the positioning of women as artists in general. The British writer looked to history and everyday life for examples for her argument. Under her roof, opening her house to the public, Rose Klabin mounted an exhibition in which she had to go back to her history and question her daily life to challenge how her role as a woman artist, mother, daughter and so many others was being played out. which he assumed throughout his 40 years.
She moved away, by choice, from the artistic universe while, with her contestations, she tried to come to an agreement with herself to conclude a kind of self-discovery. "My practice as an artist was not consistent with my affective", says Rose. Despite this, she continued to produce at home. His intimate research resulted in the production of five marble sculptures, committed to industrial waste such as iron and other metals.
Initially, however, there was no intention of producing an exhibition. For this very reason, and because of the fact that it was conceived in that space, which in addition to her house houses her studio, she preferred not to have an exhibition at the Eduardo Fernandes gallery, by which she is represented. She built, with an exhibition project by the architect Mauro Munhoz, an "installational universe for sculptures that did not finish on their own", as the artist defined it.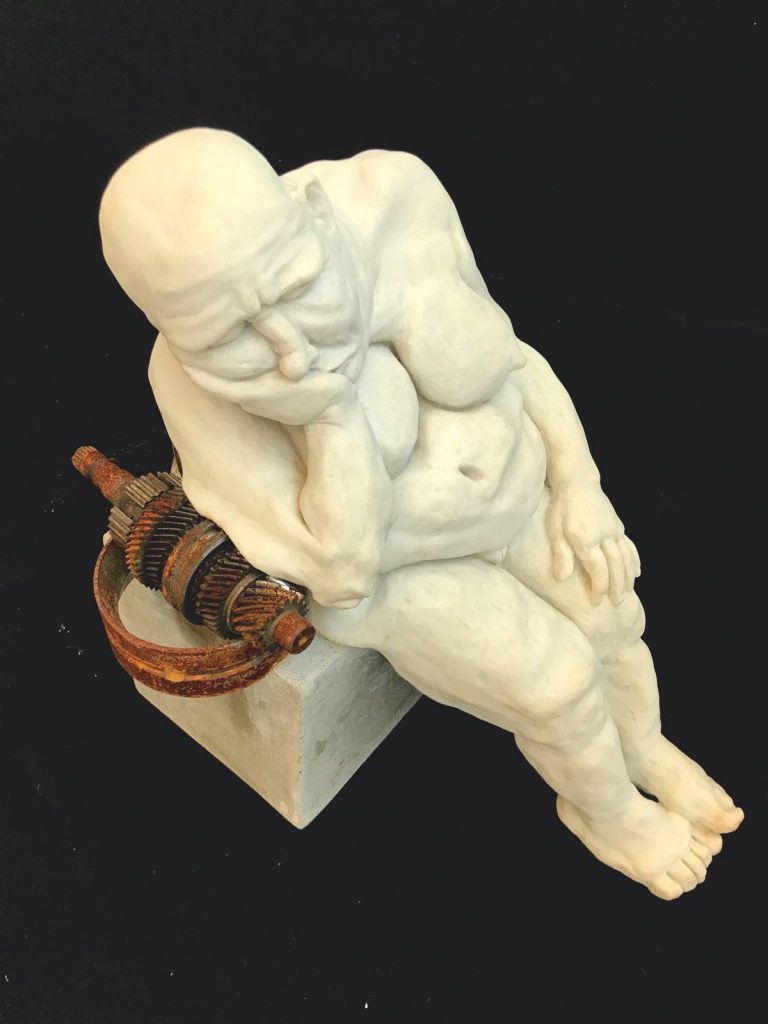 "Immersion", "dedication" and "delivery" are the words that Rose uses to point out how the visitor's journey along the path he built for the exhibition should be viewed, which is curated by Douglas de Freitas. The dark path, illuminated by methodically controlled beams of light, is accompanied by an archaic Lithuanian chant, sung by women, which echoes loudly throughout the room. The combination of the visual and the musical puts any attentive visitor into a trance. "There are encounters and disagreements in these songs, the encounters would be agreements", she comments.

The marble figures in the first room of the exhibition refer to women of different archetypes and in different situations. In all these situations the pain seems to be present. The delicacy of marble with the rustic of decomposed iron form a contrast that complements each other. References to his family origins are always present.
Lithuanian music, iron, pieces that refer to machines and a last work, in the second room, show that Rose went to the core of herself. This work, a bust of his grandfather installed in a particular way, should go to a square in the city where he settled when he arrived in Brazil. sutartine runs until August 8 at the artist's studio, located in the Cidade Jardim neighborhood.
---
Rose Klabin – Sutartine
Until August 08
Rose Klabin Atelier
Rua Jaguanambi, 105 – Cidade Jardim, São Paulo
---