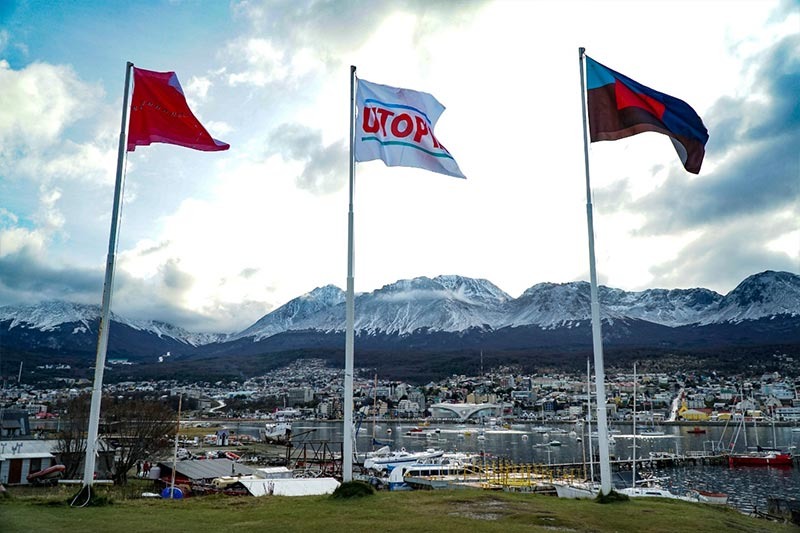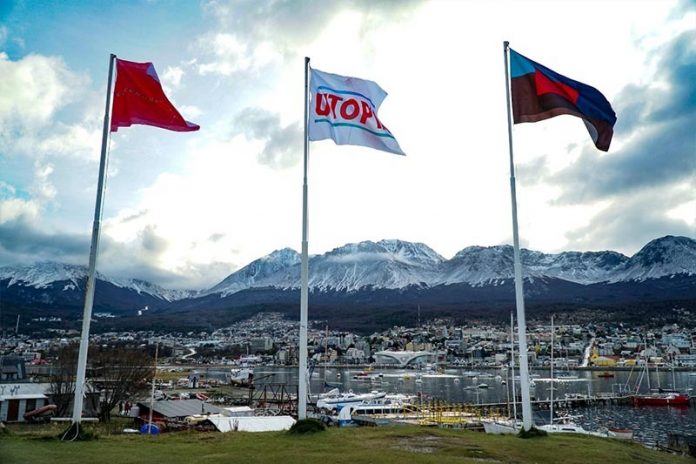 The raising of three flags in the "city at the end of the world", Ushuaia, was an important milestone last weekend: the second edition of BIENALSUR was inaugurated in the Argentine province of Tierra Del Fuego, an event whose essence is to emphasize the global South .
As End of the world flags (Banderas del fin del mundo), as the outdoor installation was called, it has its origins in a project by French artist Christian Boltanski, who conceived one of the banners for BIENALSUR, the other two were produced by Chilean artist Voluspa Jarpa and Argentinian Magdalena Jitrik. The pieces were hoisted by the director of BIENALSUR and rector of UNTRER, Aníbal Jozami, by the artistic and cultural director of BIENALSUR, Diana Wechsler, and by the Secretary of Culture of the province, Gonzalo Zamora. On the occasion, Jozami declared that the event "was born to change the central currents of culture, to influence them with the thought of the South".
In addition to the city of Ushuaia, the municipality of Rio Grande also hosted activities related to the event, including the Landscapes between landscapes (Landscapes between landscapes), on display at the Museo Fueguino de Arte. In the debut edition of the biennial, Tierra del Fuego had not been included on the map, which completely changed in 2019, with the province being the first to receive programming.
The next stop of the event, from the 23rd and 24th of April, now heading north, will be in Tucumán, in the northwest of Argentina, between Chile, Bolivia and Paraguay. Three institutions in the province will host exhibitions, actions, interventions and lectures: Museo Provincial de Bellas Artes Timoteo Navarro, MUNT – Museo de la Universidad Nacional de Tucumán "Juan B. Terán" and Centro Cultural Juan B. Terán. The highlight is the exhibition between senses, at MUNT, which will feature work by Brazilian artist Chiara Banfi.

Brazilians even have a guaranteed presence at this BIENALSUR. Already in the first openings in Tierra Del Fuego, Berna Reale, Lia Chaia and Dora Longo Bahia, and the Argentine based in Brazil Carla Zaccagnini, had works in the exhibitions in Ushuaia and Rio Grande.
Check out the full schedule of Tucumán:
Provincial Museum of Fine Arts Timoteo Navarro
Exhibition: "Otra ella". Artist: Nicola Costantino
Exhibition: "Heroines". Artists: Leila Alaoui, Carolina Antoniadis, Claudia Casarino, Annemarie Heinrich, Voluspa Jarpa, Adriana Lestido, Eduardo Longoni, Zulema Maza, Erika Meza, Javier López, Stéphanie Pommeret, Omar Torres, Mariana Schapiro and Edward Shaw.
Sound intervention: In first persona. Artist: Carola Beltrame.
MUNT – Museum of the National University of Tucumán "Juan B. Terán":
23/05 – Conversation by Sebastián Tedesco, Bruno Mesz and Mateo Carabajal: "Transmodalidad, science and poetics of the senses"
24/05 – Exhibition: "Between senses". Artists: Duygu Nazli Akova, Joaquín Aras, Chiara Banfi, Eugenia Calvo, Cecilia Catalin, Cecilia Ivanchevich Ana Mance, Camila Maya, Bruno Mesz, Ana María Morill, María Jesús Román, Sebastián Tedesco.
Juan B. Terán Cultural Center:
24/05 – Installation: "We have the power to elect". Artist: Marie Orensanz