"The world is now on hold. And I don't know if we're going to come out of this experience the same way we came in. It's like a hook pulling us into consciousness. A step to look at what really matters", writes Ailton Krenak in Tomorrow Is Not for Sale (available to free download). One of the most important Brazilian indigenous leaders today - famous for his remarkable speech at the 1987 Constituent Assembly and for his intense socio-environmental activism -, Krenak has just released this small book for Companhia das Letras with reflections on the times of the Covid-19 pandemic. and the world to come.
"The President of the Republic said the other day that Brazilians dive into the sewer and nothing happens. What we see in this man is the exercise of necropolitics, a death decision. It's a sick mentality that is taking over the world. And now we have this virus, an organism of the planet, responding to this sick thinking of humans with an attack on the unsustainable way of life that we have adopted by choice, this fantastic freedom that everyone loves to claim, but no one asks what the price is." says Krenak – also author of the book Ideas for Postponing the End of the World (2019) – in another part of the text.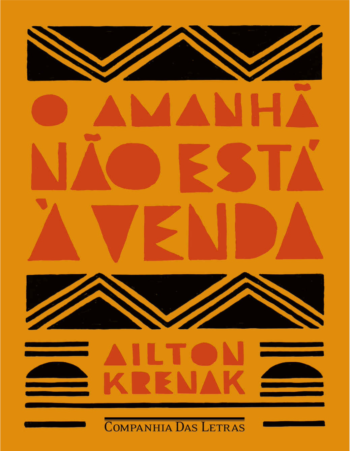 The author, who is currently isolated in the Krenak village, on a four-hectare reserve in Minas Gerais, therefore questions the idea of ​​"returning to normality", emphasizing that it is neither possible nor desirable. "What we are experiencing may be the work of a loving mother who decided to make her son shut up at least for a moment. Not because she doesn't like him, but because she wants to teach him something. 'Son, silence'." And, later on, he concludes: "I hope we don't return to normality, because if we do, it's because the death of thousands of people all over the world was worthless. (…) It would be like converting to denialism, accepting that the Earth is flat and that we must continue to devour ourselves. Then, yes, we will have proved that humanity is a lie."
Art, architecture and indigenous cause

In issue #50 of arte!brasileiros we publish articles on indigenous production and its possible teachings in the contemporary world. Read interview with Denilson Baniwa; report on exhibitions of indigenous artists in large institutions; and article about indigenous architecture in the Xingu.