In the new episode of the Acervo Comentantado VB, the philosopher Alice Lino, a professor of philosophy at the Federal University of Rondonópolis (UFR), in Mato Grosso, and a researcher of Amerindian and Afro-Brazilian aesthetics, comments on the work from grandmothers (2019), by Rosana Paulino [1], described as "an artist who has been establishing herself as one of the main ones of her generation for her ability to shape aesthetic/artistic rigor to questions about the history of Afro-descendants in Brazil and also about a history of art that intends to be hegemonic in the country", as the critic put it Thaddeus Chiarelli.
In the work in question, Lino describes that the performer Charlene Bicalho "enters the scene completely covered in white, carrying her ancestry with great care, wrapped in a white cloth". For the teacher, the gesture is a reference to the violence that black women enslaved here have gone through. Faced with this cruel past, Bicalho opens the white fabric, inside which are printed, in transparency, images of these black women, which reveres, then, their ancestry in these terms. The performer, with care, patience and affection, starts to sew these images together with her clothing, which is also white.
"I draw attention here to the fact that a black woman is politically constructed when she recognizes herself based on the history of her ancestry", says Lino, adding that: "It is also worth noting that there is a fabric of affection, she looks with great affection for the images it brings close to itself. There is in the performance, therefore, the reconstitution of this affection also directed to the black woman. Where there is violence, there is no affection. Rosana Paulino, therefore, subverts this image, assuring these black women of our respect for the struggle waged up to our times". For the philosopher, when Charlene stands up at the end of the video, her gesture proudly symbolizing the character's taking a stand to face the everyday racism that black women go through.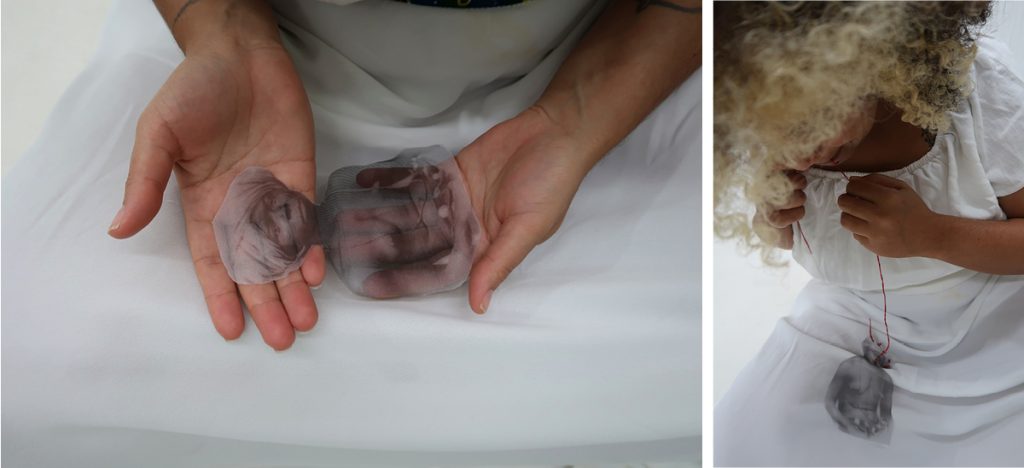 Still don't know the Commented Collection?
Videobrasil Commented Collection is a partnership between arte!brasileiros and Associação Cultural Videobrasil. Every 15 days we publish, on our platform and on our social networks, a part of its important collection of works, gathered in more than 30 years of trajectory. Check out the other episodes in this link.

About Videobrasil
A institution was created in 1991 by Solange Farkas, the result of the desire to host a growing collection of works and publications, which has been gathered since the first edition of the Contemporary Art Festival Sesc_Videobrasil (still Videobrasil Festival, in 1983). Since its creation, the association has worked systematically to activate this collection, which brings together works from the so-called geopolitical South of the world – Latin America, Africa, Eastern Europe, Asia and the Middle East –, especially video art classics, own productions and a vast collection. of art publications.
This project contributes to "rediscovering and relating works from the Videobrasil collection, and thematic aspects, in the voice of critics, curators and thinkers, illuminating urgent contemporary issues", says Farkas.
---
[1] In addition to being a visual artist, researcher and educator, Paulino holds a PhD in visual arts from USP, with a specialization in engraving from London Print Studio. She received a scholarship from the Ford Foundation and Capes, and in 2014, she was awarded a scholarship to reside at the Bellagio Center, of the Rockefeller Foundation, in Bellagio, Italy. She participated in the solo shows Atlântico Vermelho, at Galeria Superfície (2016), Mulheres Negras – Obscure beauté du Brésil, at Espace Fort Grifoon, Besançon (2014), Tecido Social, at Galeria Virgílio (2010); and the group shows SouthSouth: Let Me Begin Again, Cape Town, South Africa (2017), La Corteza del Alma, Madrid (2016) and Territories: Artists of African descent in the Pinacoteca collection, São Paulo (2015), among others.