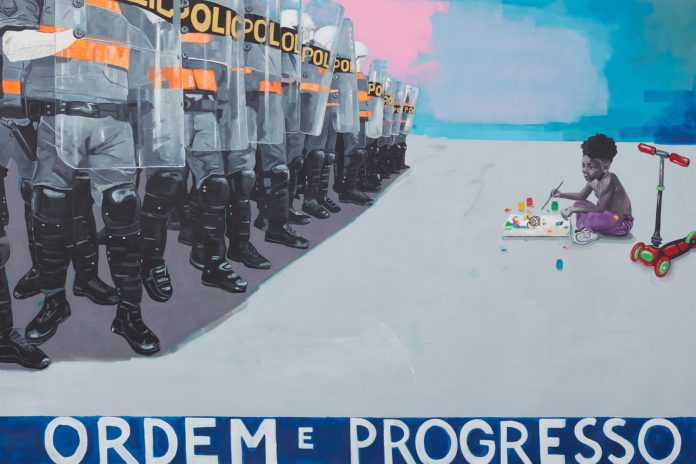 Em Social Signs, opened this week in London, No Martins' work with painting is the focus, although his artistic production also transits through performance, installation and experimentation with objects such as truck tarpaulins and metal plates.
Some of the key issues in his work come from the observation of everyday scenarios in the city of São Paulo, where he was born. Carefully unraveling these ordinary scenes, he delves into topics such as racism, police violence and mass incarceration. Thus, it traces an architecture of violence in a world "inhabited by a corporeal commodity", in a society marked by asymmetrical relations of power and devices of power and surveillance, as Diane Lima, curator and researcher responsible for the critical text for the presentation of Social Signs.
Martins entered the São Paulo urban art scene in 2003, through graffiti and graffiti. Between 2007 and 2011, he attended printmaking workshops at the Oficina Cultural Oswald de Andrade, in São Paulo, where he took classes with artists such as Kika Levy, Ulysses Bôscolo and Rosana Paulino, whom he refers to as a teacher – noting that it was with Paulino that he learned to look calmly at work. According to the artist, his learning relationship and consequent friendship with Paulino offered an entrance to the world of plastic and visual arts. "I was street, just street, and that was art for me. It was the contact with her that made me see the possibility of being an artist". Paulino was also the curator of No Martins' first solo show in Brazil.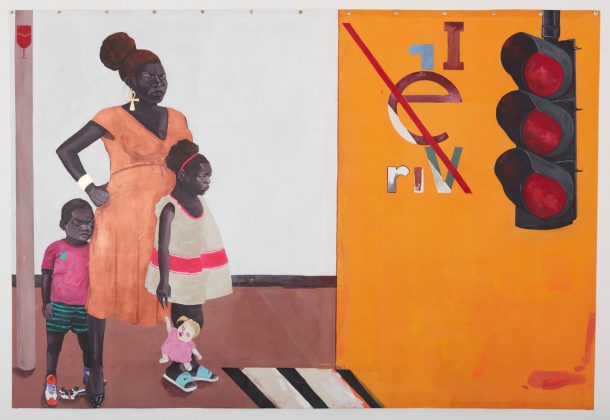 Even those who are not familiar with the body of his work may have already seen the emblematic series #Enough!, a cry made by the artist beyond the denunciations. The series was elaborated with the superposition of different types of fabric, building a kind of war standard. No laments to Videobrasil: "111 shots fired by the police against the car of 5 young black men is a state of war, 80 shots fired by the police against a family's car is also a state of war".

It was from this work that Marcio Seligmann-Silva outlined the following reflection, in opinionated text to arte!brasileiros: "No Martins is part of a new generation of artists who make up contemporary black Afro-descendant Brazilian art. this series #Enough! it works as a catalyst to formulate the anti-fascist and anti-necropolitics political demands that have acted on the black population since the times of slavery. The impressive strength and originality of contemporary black Brazilian art responds to the terrible rise of neo-fascisms that today repeat their genocidal designs. This profoundly decolonial art produces a rupture in the complicity between the 'aesthetic device' and the 'colonial device'. It says enough with the white cube (too much white) and all classicisms."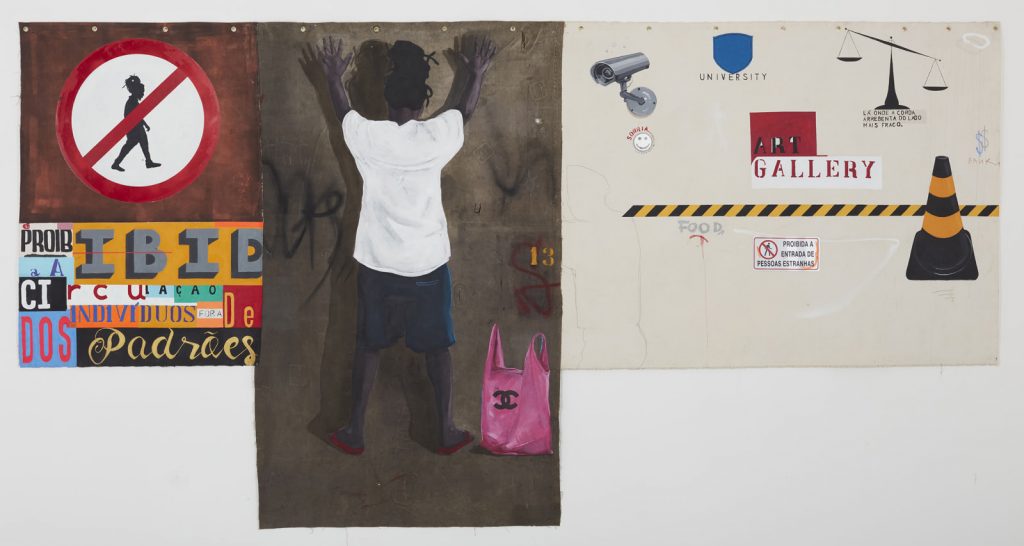 A série #Enough! brings symbols that evoke the regime of seeing and being seen, such as the hashtag and newspaper headline collages, which require explicit interaction with the audience. Something similar reappears in Minefield. The work features two self-portraits of the artist, both without his face. In one of them No is placed against the wall – in which he isthe number 13 is written, the age at which he was first framed by the police - and in the other he is the figure of a traffic sign indicating that he should not transit through the spaces painted in the last part of the work, the university, the galleries, stores – referenced by a Chanel bag and a camera pointed at him. Martins is faceless in this painting as a means of opening up the violence of structural racism in provoking social impediment and selective invisibility.
if in an extra tie he protests against episodes of physical violence and murder of the black population, in Minefield he laments a veiled form of racism that also appears in the works stratagem and in a portrait of a barefoot black policeman.
stratagem is part of the group of unpublished paintings presented at the Jack Bell Gallery – that show remarkable aesthetic care. It describes a scene where a black person plays chess against himself using a board of white pieces. According to the artist: "She is creating strategies to overthrow an oppressive system, but at the same time, there are also people who try to fit into white standards and end up denying what they really are. That's what this system means when it says you're brown and not black. It's a way of trying to make you fit into his system., to make you flip a piece that he can move."
The portrait of the policeman, on the other hand, is imbued with a symbolic reference that, at the same time, criticizes the ills still present in the enslavement of blacks and invites an exercise of empathy with the portrayed. Martins explains that the work returns to the already discussed idea of ​​being in a minefield. One of the propositions of this painting is to look at the black policeman through his human side. "He's an ordinary person when he's out of uniform. It's his idea of ​​always being in a minefield, always being in a field of risk. When he's the cop, he's in a danger zone at his job, getting paid this low that cops get paid, which doesn't live up to the job. At the same time, when he takes off that uniform he is an ordinary black man, and he remains in a risk zone. The boots are taken off to say this: that we are talking about this human side of the policeman".
The artist adds: "The shoe, in the post-liberation period of the enslaved, becomes a symbol of liberation. We can find, for example, images of former enslaved people with shoes hanging around their necks, tied by their shoelaces, wanting to show their freedom, the enslaved walks barefoot all the time. We see these gigantic, bare feet that are transformed feet when you walk barefoot all your life."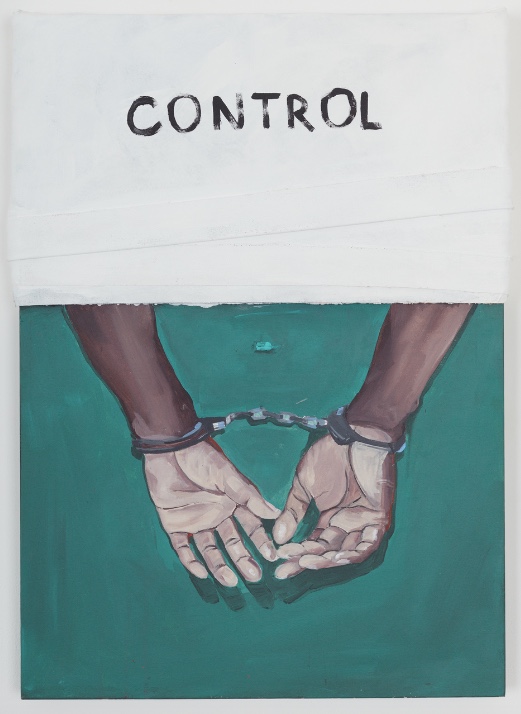 an extra tie, in turn, refers to the episode of the murder of the young Pedro Gonzaga, 19, by a security guard at the Extra supermarket who asphyxiated him with a "tie" blow. The case is similar to the death of George Floyd, in the United States, which generated worldwide commotion recently. Social networks went into protest for Floyd with the hashtag Blackout Tuesday, for example. This reaction provoked reflections on a certain "selective emotion" of Brazilian society in the face of the lives of the black population.
Martins explains that he doesn't think the Brazilian society was more moved by the death of George Floyd than by João Pedro, Guilherme Silva, Pedro Henrique, Jenifer Gomes, Kauan Peixoto, Kauã Rozário, Kauê dos Santos, Ágatha Félix, Ketellen Gomes or any other black person Brazilian. "The problem is that in Brazil these deaths have become normal, it is common for you to open the newspaper and read one more piece of news like this. These names are for a few people whose cases have 'gone viral', but perhaps as I answer your question, someone else will be killed by a state firearm."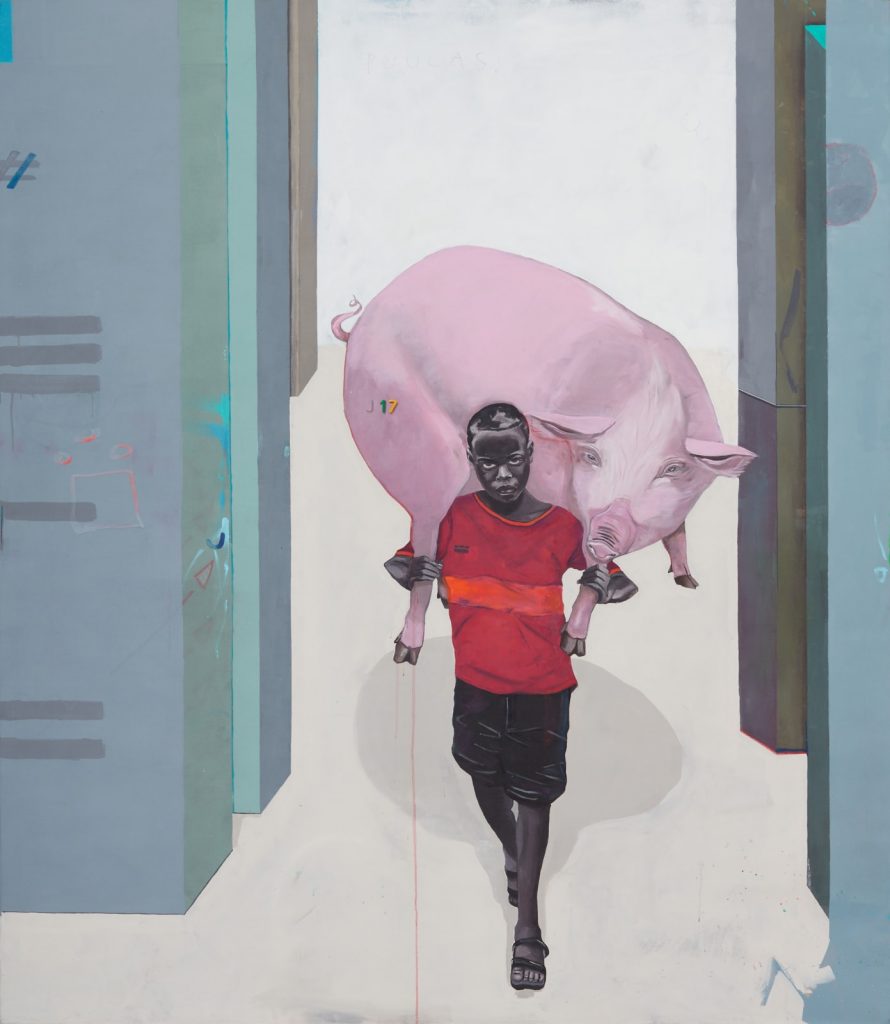 At work Necropolitical, Cameroonian thinker Achille Mbembe talks about forms of sovereignty whose central project is not the struggle for autonomy, but the "generalized instrumentation of human existence and the material destruction of human bodies and populations". No Martins states that this concept of the "right to kill" was forcibly implanted in the consciousness of the population that suffers directly from it. He exemplifies the issue using the phrase "a good bandit is a dead bandit", which became "a very efficient tool for the extermination of the poor and black population: in TV reports and in sensationalist programs we repeatedly hear the excuse that people are killed for having passed the police, or for being involved in drug trafficking".
For Martins, the reflections that his work allows should be welcomed in the art world and in academia, but not confined to spaces that are still so restricted. "Large galleries will rarely want to represent artists from the margins, who have not been through elitist institutions such as FAAP, Belas Artes, USP or any other outside Brazil," he says.
Despite this, for No, qthe more thinkers tackle this problem, the better. He makes a reservation, however, that "these discussions should be closer to the people who are affected and who live with all this violence. This should be addressed in public schools, for example."
In addition, "most of the time, the first contacts with police violence in the periphery happen during adolescence, school period. If we pay a visit to Fundação Casa, we will certainly not find any intern children born and raised in Jardim Europa, for example, that is, the abuse of power is aimed at a specific part of the population, and this should participate in these debates".
Walking through the layers of meaning in No Martins' paintings, it is possible to perceive that his work works on multiple levels of perception and it is also up to the observer to be willing to enter the artist's visual narrative, as well as it is necessary to concentrate to listen.