"Conceptual Strategies", on view at Galeria Bergamin & Gomide, focuses on the solid partnership that has been established between political art and conceptualism in Latin America. This synchrony between an art that breaks with formal models and a more assertive discourse, connected with the events associated with the political repression experienced in the period of the 1970s and 1980s, is evident in the approximately 80 works selected for the exhibition by the curator Ricardo Sardenberg. . His intention is not to make a historical review, nor to schematize this broad production in thematic, formal or geographical nuclei. On the contrary, it is through diversity and density that Sardenberg approaches the subject. And in a way it updates it.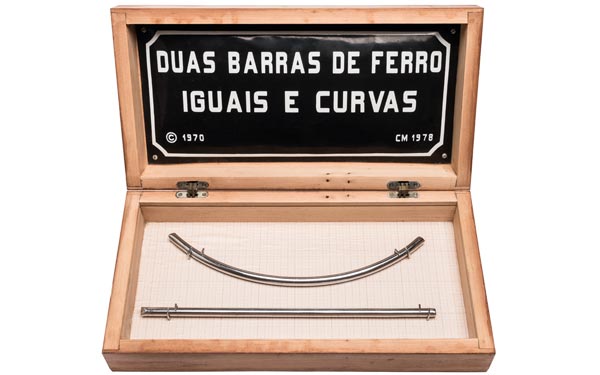 "There are several strategies of production and dissemination, sometimes of opposing ideological nuances", explains the curator, reaffirming that in a way his strategy is to dilute the great authorships, inserting them in a broader and more diverse set. It is evident that the artists who stood out most during this process are represented and that there is a slight predominance of Brazilian authors (which correspond to about 60% of the list). The selection – which does not only comprise works of art, but also projects, texts, documents – begins with an older work, carried out in 1962, by Augusto de Campos. And it ends at the end of the 1980s with a work by Jac Leirner. Within this range there is space for different poetics, by artists such as Cildo Meireles, Victor Grippo, Lygia Pape and León Ferrari. To bring this group together, it was necessary to resort to several collections and, despite occupying a commercial gallery, not all works are for sale.
According to Sardenberg, the show purposely sins by excess, as if the curatorship sought to "redematerialize" these objects, reduce the fetishization to which they were subjected in subsequent decades and reinforce important aspects of these proposals such as their political intention, the revolt against the merchandise that marks the conceptual art and the emphasis on collective art.
It is not a coincidence that so many exhibitions have, now and in the recent past, focused on this period of contestation, in which art is also transformed into a language of combat and resistance. It is possible to mention, for example, the exhibitions Mulheres Radicais, at the Pinacoteca do Estado and AI-5, at the Instituto Tomie Ohtake (see articles on pgs. … and …). Looking at the past undoubtedly illuminates the dark present, but it is necessary to keep in mind that times are different. "The authoritarian impulse is similar, but not the same", ponders the curator.