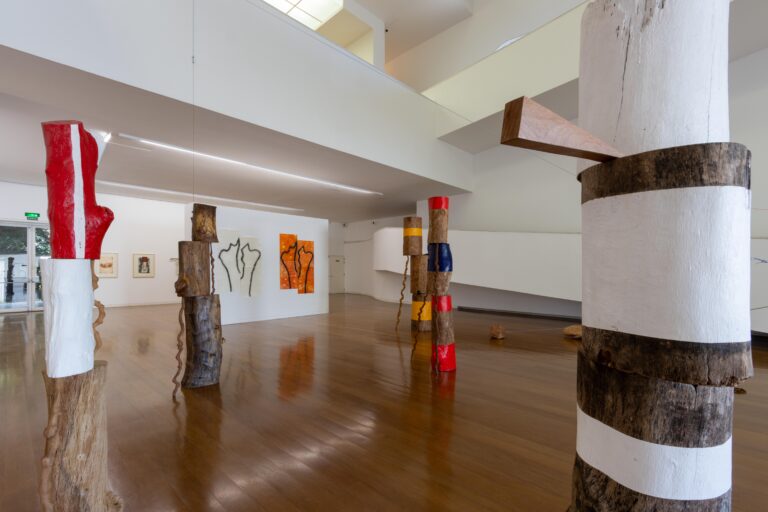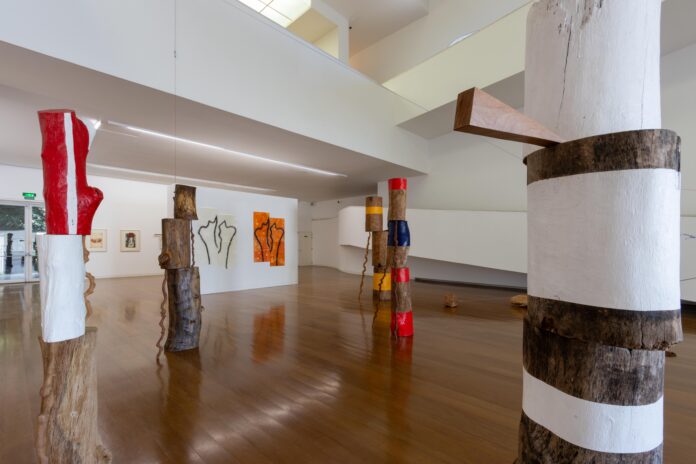 Auntil October 22nd, the Iberê Camargo Foundation, in Porto Alegre (RS), receives Gatherings, by the plastic artist from Minas Gerais Alfonso Tostes. The exhibition brings developments from the show of the same name that at the beginning of the year marked Tostes' debut at Galeria Luciana Brito, in São Paulo – until then, he was represented in the capital of São Paulo by Milan.
At the Fundação Gaúcha, at the center of the exhibition, the public will find large wooden sculptures that refer to totemic forms, as Luisa Duarte defined in her curatorial text for an exhibition previously held in São Paulo. The works were created from trunks, mostly collected in Ibirapuera Park, in the capital of São Paulo, but also in Rio de Janeiro, where Tostes lives.
These sculptures have a "tenuous stability", also as described by Duarte. A delicate balance is maintained, suggests Tostes, with the support of wedges and thin, twisted structures, which imitate branches, also made by the artist with pieces of wood, and which he calls walking sticks.
"I started developing these works at least five years ago, even before the exhibition at Luciana Brito, but they had not been shown until then", says Tostes to arte!brasileiros.

"They, however, do not represent a major departure from my line of work, nor do they follow a logical sequence. My creative process is always linked to the materials I collect and interact with in my studio."
The ideas that emerge from this coexistence, says Tostes – within his field of research on nature, the environment and the relationship with the environment, urban or natural – remain "simmering" in his head until they flow into the works he presents to the public. "When I do an exhibition like gatherings, I am not only gathering those ideas, but also working on my references, experiences, the observation of what, I understand, forms me as an artist."
Tostes also states that these works also reflect his ideas about the cultural and artistic environment in a marketing structure. "An also broader structure, which defines what contemporary art is, as opposed to information that comes from a place that is not related to art as a product, to be displayed within marketing contexts, in turn, and therefore historically accepted".
In addition to the wooden sculptures, in gatherings, Afonso Tostes reintroduces the series Reform, with canvases made from wood dust, resulting from sanding the sculptures, and which serves as "paint". At the Fundação Iberê Camargo, Tostes added new works to the original exhibition, made on site, during two seasons in Porto Alegre, such as two woodcuts and a series of engravings.
The artist emphasizes that the search for an idea of ​​essence and simplicity runs throughout his work. In a text written for the exhibition at Fundação Iberê Camargo, he states that he tries to "find beauty in the simplest poetics possible". This, he says, is evidenced in his relationship with structures – in previous creations, an example of this is the "bone garden" that in 2010 he "planted" at the Museu da Casa Brasileira, in an exhibition curated by Agnaldo Farias.
Em Gatherings, their trunks supported by canes are, again, structures, but "not so reliable", unbalanced by the artist's own interventions, says Tostes, whether by cutting or by the attempt to reconstruct "what is no longer there", that is, the trees they came from.
Tostes makes a point of highlighting that Luciana Brito was an important interlocutor in the process of creating Gatherings, both in São Paulo and Porto Alegre. The gallerist states that she always works closely with artists: "I deal with those I represent a lot this way. It's like a partnership, in which we talk about the project, I help with my experience with assembly, etc.", explains Luciana. "At the same time, I give artists a lot of freedom. They hold their exhibitions exactly as they planned."
Part of this partnership with Luciana Brito, who frequently visited the artist's studio, guaranteed Tostes the possibility of producing his pieces, especially the large wooden trunks, in São Paulo, in a workshop that the gallerist was able to provide. Also at the Iberê Camargo Foundation, says Luciana, the gallery was very involved in the installation of Tostes' works. "It should be noted that Emilio Kalil is also very open to these collaborations. In the end, it was a six-man job," she asserts.
Luciana also highlights that Gatherings expanded Afonso Tostes' artistic range. "He opened several fronts in both exhibitions. The work with newspapers, which had not been shown in São Paulo, is an example. The sculptures are all new, and the paintings are very successful because he has always been better known as a sculptor. Even from a commercial point of view, we can say that we sold very well."
Even though there is news in Gatherings, Luciana makes a point of highlighting that there is always a lot of coherence in Tostes' work. "He has his own research, in which he uses materials that he finds and collects, something that also applies to the tools he uses. Within this universe, which may seem limited, he achieves a super important variation of narratives about nature", she argues. In the panorama of Brazilian contemporary art, says Luciana, Tostes has a prominent presence, with a very unique work, in which he is faithful to his research as an artist, since the 1980s or even a little earlier.