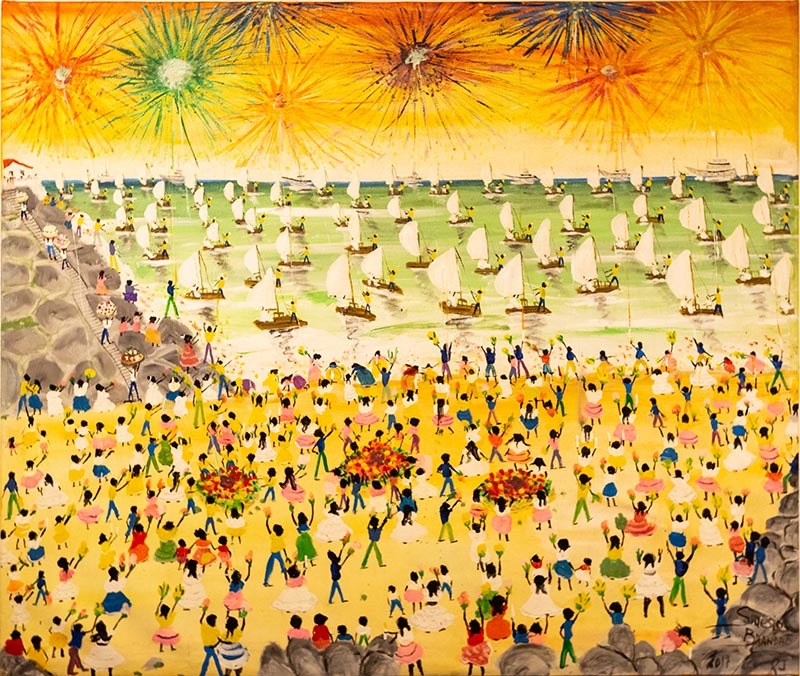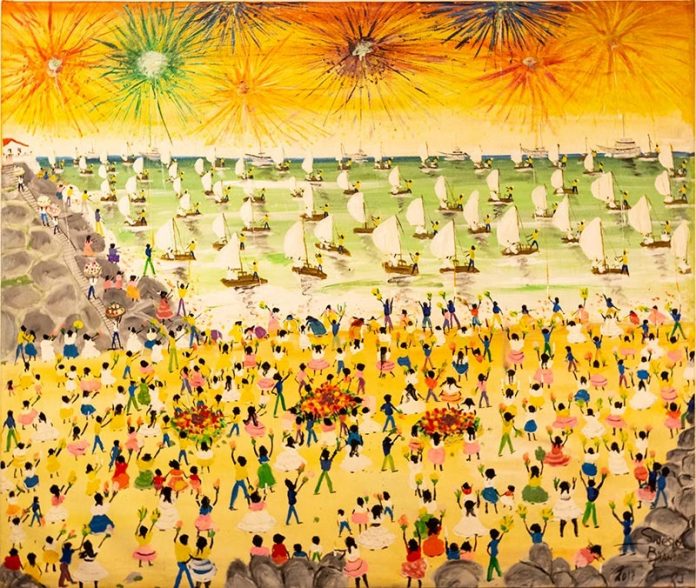 The Bienal Naïfs do Brasil 2020, which would start in August at Sesc Piracicaba, was postponed in person because of the pandemic. However, online actions, which will extend until July 2021, allow the public to get closer to this universe even during social isolation.
We spoke with the curators, Renata Felinto and Ana Avelar, about the concept of this 15th edition and about the digital activities created to make the public, during social isolation, have access to the Bienal. The works presented in the exhibition followed an overview of representation based on various criteria, such as territory, ethnic-racial statements, age groups and the subjects with which the artists work. In addition, they sought to emphasize themes that are related to issues that create discussions about the deconstructions and constructions of society, such as gender issues and the environment.
All Bienal actions will be periodically announced on Sesc Piracicaba's Facebook, Instagram and Twitter channels. The complete list of artists selected for the Bienal Naïfs do Brasil 2020, as well as catalogs and information from previous editions, can be consulted. here. Watch the video (by Jamyle Rkain and Coil Lopes) and, below, see the list of award winners:

Awards
As a way of encouraging participation, valuing their work and diversifying the institution's permanent collection – the Acervo Sesc de Arte –, Sesc São Paulo grants some of the selected artists, through their works, the Outstanding Acquisition Prize, the Incentive and Special Mention. In the 15th edition of the Bienal Naïfs, the awarded works are:
Highlight-Acquisition Award
daily life II, by Alexandra Adamoli (Piracicaba, SP).
Apurinã Kamadeni Totem, from Sãnipã (Pauiní, AM).
Lucia's rebirth, by Paulo Mattos (São Paulo, SP).
The martyrdom of Our Lady of Brazil, by Shila Joaquim (São Matheus, ES).
Incentive Award
Manto tropeiro: a brief look at the way of the troops, by Angeles Paredes and Carmem Kuntz (Sorocaba, SP).
In search of a freedom that has not yet dawned, from Con Silva (Batatais, SP).
Comadre Fulosinha gives birth after beheading the hunter who got her pregnant, by Eriba Chagas (São Paulo, SP).
hope in pieces, from Chavonga (Diadema, SP).
Imaginary toys, by Valdeck de Garanhuns (Guararema, SP).
Special Mention
It's oil in the sea..., from Alcides Peixe (São Paulo, SP).
corner of blessing, by Alexandra Jacob (Piracicaba, SP).
ebb, by Eri Alves (São Paulo, SP).
Jandira #33, by Helen Audrey (Campinas, SP).
Pajé's Apprentice, from Yupury (Manaus, AM).
Umbuzeiro in bloom, by Nilda Neves (São Paulo, SP).
Fat, from Soupix (Crato, CE).
soul of the road, by Thiago Nevs (São Paulo, SP).
Finoca's day-to-day, by Zila Abreu (São Paulo, SP)