BVenice yen, the oldest exhibition of its kind, returns in 2022 for its 59ª edition – after a year of delay due to health restrictions imposed by the pandemic – starting on April 23 and ending on November 27. On account of the delay, in fact, it will coincide with Documenta, the five-year event in Kassel, Germany.
This Wednesday, February 2nd, the organization of the event released the names of the 213 participants from 58 countries. Nations such as Cameroon, Namibia, Nepal, Oman and Uganda will be represented for the first time at the event, which is already considered the most internationally diverse. Among the selected artists are five Brazilians: Lenora de Barros, Luiz Roque, Rosana Paulino, Solange Pessoa and Jaider Esbell, who died recently.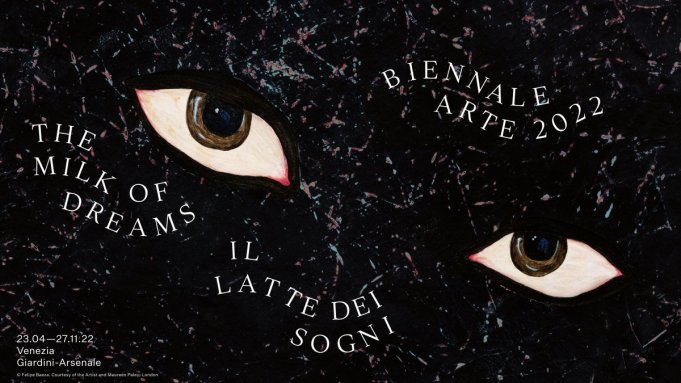 titled The Milk of Dreams, the main exhibition at the Venice Biennale is in charge of Cecilia Alemani, director and chief curator of New York's High Line Art. This title is a reference to a series of drawings that were later turned into a children's book by surrealist artist Leonora Carrington. According to Alemani, the show will focus on three distinct areas: "The representation of bodies and their metamorphoses; the relationship between individuals and technologies; the connection between bodies and the Earth". Although it is focused on young artists not yet fully recognized by the circuit, the Bienal will also feature five "time capsules" of renowned figures, who will present unprecedented and historical works, borrowed from museums and collections, installed together with the contemporary works of the show. .
Unprecedented for the 2022 edition, it is also the first "College Arte" in the history of the Bienal, which now flanks those dedicated to cinema, dance, theater and music. The artistic projects of Simnikiwe Buhlungu, Ambra Castagnetti, Andro Eradze and Kudzanai-Violet Hwami will be financed by the initiative. The four artists will receive a grant of 25 thousand euros for the realization of their final work and the works will be presented at the Bienal out of competition. More than 250 young emerging artists under the age of 30 joined the call to participate, most of them women.

Check out the full list of featured artists:
1. Noor Abuarafeh
2. Carla Accardi
3. Igshaan Adams
4. Eileen Agar
5. Monira Al Qadiri
6. Sophia Al-Maria
7. Ozlem Altin
8. Marina Apollonius
9. Gertrude Arndt
10. Ruth Asawa
11. Shuvinai Ashoona
12. Belkis Ayon
13. Firelei Baez
14. Felipe Baeza
15. Josephine Baker
16. Djuna Barnes
17. Maria Bartuszová
18. Blessed
19. Mirella Bentivoglio
20. Merikokeb Berhanu
21. Tomaso Binga
22. Cosima von Bonin
23. Louise Bonnet
24. Marianne Brandt
25. Kerstin Bratsch
26. Dora Budor
27. Eglė Budvytytė
28. Liv Bugge
29. Simnikiwe Buhlungu
30. Miriam Cahn
31. Claude Cahun
32. Elaine Cameron-Weir
33. Milly Canavero
34. Leonora Carrington
35. Queen Cassolo Bracchi
36. Ambra Castagnetti
37. Julia Cenci
39. Gabriel Chaile
40. Ali Cherri
41. Anna Coleman Ladd
42. Itell Colquhoun
43. Myrland Constant
44. June Crespo
45. Damaino
46. ​​Noah Davis
47. Lenora de Barros
48. Valentine of Saint-Point
49. Lise Deharme
50. Sonia Delaunay
51. Agnes Denes
52. Maya Deren
53. Lucia Di Luciano
54. Ibrahim El Salahi
55. Sarah Henry
56. Clare Enzo
57. Andro Eradze
58. Jaider Esbell
59. Jana Euler
60. Minnie Evans
61. Alexandra External
62. Jadé Fadojutimi
63. Jes Fan
64. Safia Farhat
65. Simone Fattal
66. Celestin Faustin
67. Leonor Fini
68. Elsa von Freytag-Loringhoven
69. Katharina Fritsch
70. Ilse Garnier
71. Age Gaup
72. Linda Gazzera
73. Ficre Ghebreyesus
74. Elisa Giardina Pope
75. Roberto Gil
76. Nan Goldin
77. Jane Graverol
78. Laura Grisi
79. Karla Grosch
80. Robert Grosvenor
81. Aneta Grzeszykowska
82. Sheroanawe Hakihiiwe
83. Florence Henri
84. Lynn Hershman
85. Charlie von Heyl
86. Hannah Hoch
87. Jessie Homer French
88. Rebecca Horn
89. Georgiana Houghton
90. Sheree Hovsepian
91. Tishan Hsu
92. Marguerite Humeau
93. Jacqueline Humphries
94. Kudzanai-Violet Hwami
95. Tatsuo Ikeda
96. Saodat Ismailova
97. Aletta Jacobs
98. Geumhyung Jeong
99. Charlotte Johannesson
100. Lois Mailou Jones
101. Jamian Juliano-Villani
102. Birgit Jurgenssen
103. Ida Kar
104. Allison Katz
105. Bronwyn Katz
106. Kapwani Kiwanga
107. Kiki Kogelnik
108. Barbara Kruger
109. Tetsumi Kudo
110. Gabrielle L'Hirondelle Hill
111.Louise Lawler
112. Carolyn Lazard
113. Aim Lee
114. Simone Leigh
115. Hannah Levi
116. Tau Lewis
117. Shuang Li
118. Liliane Lijn
119. Candice Lin
120. Loy Mine
121. Antoinette Lubaki
122. LuYang
123. Zhenya Makhneva
124. Baya Mahieddine
125. Maruja Mallo
126. Joyce Mansour
127. Britta Marakatt-Labba
128. Diego Marco
129. Dansel Meineche Hansen
130. Maria Sibylla Merian
131. Vera Molnar
132. Delcy Morelos
133. Sister Gertrude Morgan
134. Sandra Mujinga
135. Mrinalini Mukherjee
136. Nadia
137.Louise Nevelson
138. Amy Nimr
139. Magdalene Odundo
140. Precious Okoyomon
141. Meret Oppenheim
142. Ovartaci
143. Virginia Overton
144. Akosua Adoma Owusu
145. Prabhakar Pachput
146. Eusapia Palladino
147. Violet Parra
148. Rosana Paulino
149. Valentine Penrose
150. Elle Perez
151. Sondra Perry
152. Solange
153. Thao Nguyen Phan
154. Julia Phillips
155. Joanna Piotrowska
156. Alexandra Pirici
157. Anu Power
158. Gisele Prassinos
159. Christina Quarles
160. Rachilde
161. Janis Rafael
162. Alice Rahon
163. Carol Rama
164. Paula Rego
165. Edith Rimmington
166. Robert
167. Luiz Roque
168. Rosa Rosa
169. Niki de Saint Phalle
170. Giovanna Sandri
171. Pinaree Sanpitak
172. Aki Sasamoto
173. Augusta Savage
174. Lavinia Schulz and Walter Holdt
175. Lillian Schwartz
176. Amy Sillman
177. Elias Sime
178. Marianna Simnett
179. Helene Smith
180. Sable Elyse Smith
181. Teresa
182. Mary Ellen Solt
183. P.Staff
184. Sophie Taeuber-Arp
185. Toshiko Takaezu
186. Emma Talbot
187. Dorothea Tanning
188. Bridget Tichenor
189. Tofano key
190. Josefa Tolrá
191. Tourmalines
192. Toyen
193. Rosemarie Trockel
194. Wu Tsang
195.Kaari Upson
196. Andra Ursuta
197. Grace Varisco
198. Varus Remedies
199. Sandra Vasquez de la Horra
200. Marie Vasilief
201. Cecilia Vicuna
202. Nanda Vigo
203. Marianne Vitale
204. Raphael Vogel
205. Meta Vaux Warrick Fuller
206. Laura Wheeler Waring
207. Ulla Wiggen
208. Mary Wigman
209. Müge Yilmaz
210. Frantz Zephirin
211. Zheng Bo
212. Only Zürn
213. Portia Zvavahera