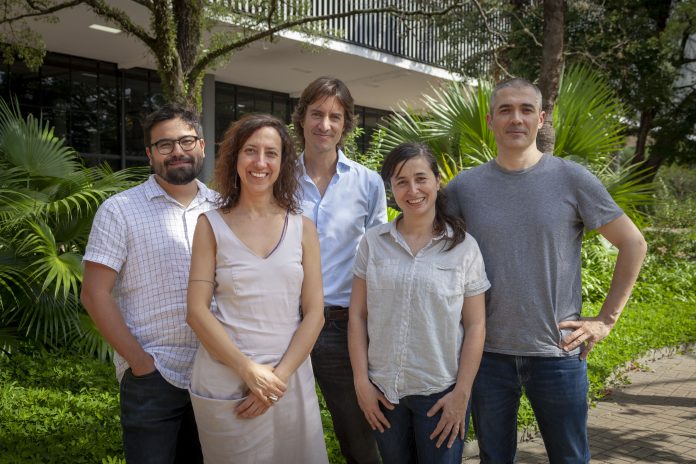 The Bienal de São Paulo will not only start in September of next year. The 2020 edition, curated by Jacopo Crivelli Visconti, will have anticipatory exhibitions at the Pavilion from March onwards and an integrated program with institutions around the city of São Paulo in September, with the intention of creating dialogues with the different, thinking of promoting relations. This project, announced this Thursday (2/4), also intends to put the city in the flow of the biennial.
À ARTE!Brasileiros, the curator says that starting from this curatorial proposition of creating relationships is also a way for the event to respond to the issues that surround the country today, but from a point of view that escapes the polarization of ideas: "This is a fundamental question of what we are living in these times, not only in Brazil, but in the world. I would say that Brazil arrived at this even a little later than what was already happening in the US and Europe", he comments.
Jacopo intends to work, together with Paulo Miyada (assistant curator), Carla Zaccagnini, Francesco Stocchi and Ruth Estévez (guest curators), an idea that can talk coherently with all instances, "in the institutional sphere but also, and mainly, artistic, curatorial, in different audiences. All these different levels of the project try to deal with this issue of polarization, to show how it is possible to create dialogues with different institutions, different works of art, different audiences, etc. So it is a Bienal that in a non-literal way, but much more poetic and symbolic, is clearly thought from the moment we are living", he explains.
The plurality sought by the project will also be addressed in the set of works shown, which will move between traditional media (such as paintings and sculptures) and more current media (such as performances and installations). Jacopo also says that this will be developed in the timeline of the works, which will be both historical and contemporary.

"The challenge in dealing with all these audiences is to be neither hermetic nor excessively simple and, at the same time, speak directly and honestly with all of them" (Jacopo Crivelli Visconti)
In an expansion movement, the Bienal will have a network of institutions that will simultaneously host exhibitions and performance presentations by artists who will be in the main show. This is in line with the concept of relationship that Jacopo calls the "methodological motto" that will define the curatorial architecture of the event.
This desire to extend the Bienal also arises from wanting to include the public even more within the experience: "The challenge in dealing with all these audiences is to be neither hermetic nor excessively simple and, at the same time, speak in a direct and honest way. with all of them". The public will be approached in such a way that, according to the curator, the event is large, "expanding in time and space", but manages to be very intimate: "We want the works and the relationships that are created between them at the Bienal itself to be on a much smaller scale than what we are used to seeing in biennials. In other words, there will be none of that 'biennial art', let's say, that is, large installations, playful and fun or interactive. It's not the focus, the focus is more on creating exhibitions that people can understand and showing relationships between works in a way that is understandable to this audience that is so diverse."
Excited by the project, the new president of the Fundação Bienal de São Paulo, the banker and collector José Olympio Pereira, sees this next Bienal as something that takes on another dimension with the curatorial proposal that is not limited to a space only in the city and that invites people and institutions to "connect without necessarily having to share the same ideas". For him, everything is very current "for a world so divided, a world so radicalized in positions". "We have to be able, although with different ideas, to relate to each other to achieve a common good".
The Bienal's partner institutions are Associação Cultural Videobrasil, Casa do Povo, Centro Cultural Banco do Brasil, Centro Cultural São Paulo, Cultural Centers of the City of São Paulo, Fundação Armando Alvares Penteado (FAAP), Instituto Bardi / Casa de Vidro, Instituto Moreira Salles, Instituto Tomie Ohtake, Itaú Cultural, Japan House São Paulo, Afro Brasil Museum, Museum of the City of São Paulo, Museum of Contemporary Art of the University of São Paulo (MAC USP), Museum of Art of São Paulo Assis Chateaubriand (MASP) , Museum of Modern Art of São Paulo (MAM São Paulo), Brazilian Museum of Sculpture and Ecology (MuBE), Lasar Segall Museum, Pinacoteca de São Paulo, Pivô and Sesc São Paulo.
The creation of this network that extends throughout the city of São Paulo gained support from the Municipal Secretary of Culture and the Secretary of Culture and Creative Economy of the State of São Paulo, with conversations with the secretaries, respectively Alê Youssef and Sérgio Sá Leitão: "It is something collective. Everyone working for this great event next year", concludes Olympio.