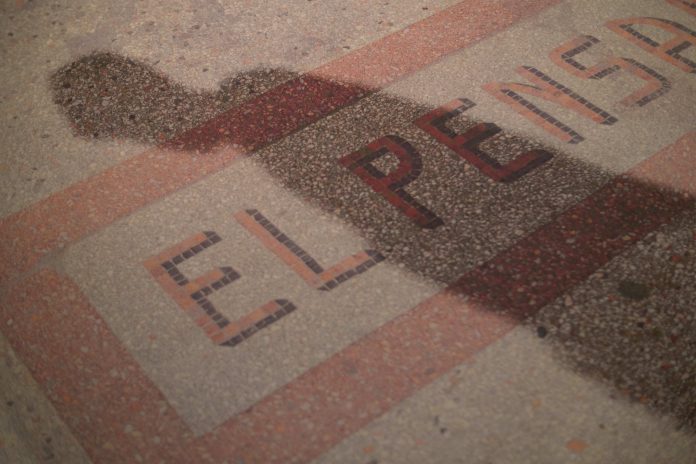 A few hours after arriving in São Paulo, Carlos Garaicoa went for a walk through the Campos Elíseos, in the central area. Despite visiting the city for 20 years, it was as if he had never been here. In this region, marked by some of the main social tensions in the capital of São Paulo, the Cuban artist holds his first solo show of the year, at Porto Seguro Cultural Space. "When working in a different city, time is often limited and awkward. Artists, in the art world, get stuck with a somewhat false idea of ​​the city, far from reality. I'm enjoying being able to work here," he says. Sample being urban, curated by fellow Cuban Rodolfo de Athayde, highlights Garaicoa's most recent production through drawings, photographs, models and installations made over the last ten years.
Since his first works, the artist has reflected on movements of construction and dismantling of urban fabrics. The notions of memory, ruin, power and utopia that he inherits from his native Havana are present, for example, in what is perhaps the best known work of Garaicoa in Brazil, Now Juguemos a Disappear II (2002), a miniature city made with candles in constant replacement installed at Instituto Inhotim. The set of works presented now, although conceived in a European context for cities like Lisbon and Turin, dialogue directly with the socioeconomic situation of São Paulo and, above all, Brazilian. After all, the surroundings of Campos Elíseos suffer from real estate speculation arising from gentrification actions such as the construction of the Nova Luz complex, the uncertainties about a possible Minhocão park and the unsuccessful and criminal expulsion of the population from cracolândia. "It is evident that Carlos' art is not uncompromising. It becomes more complex, with other layers, for not only pointing out the problems of political authoritarianism but also how the financial market and its economic agenda impose social control and violence as catastrophic as it is", says the curator.
Em Saving the Safe (2017), the artist keeps a sculpture of the Central Bank of Brazil made of gold in a safe – a metaphor for how financial institutions, through their own accumulation of wealth and control of economies, provoke crises that ensure their power over people and cities. . Other works articulate broader language exercises, such as the artist's subversion of the Haus der Kunst, Munich's iconic neoclassical building built during the Nazi regime to house "true" art. Garaicoa creates an antithesis model of the original made of metal and translucent glass, deflating Hitler's authoritarian logic by using materials from modern architecture, including the Bauhaus. Operating poetics that depart from different urban frameworks, these are works that open an arc of possible relationships between art and politics in contemporary dynamics that escape an immediate call to activism. "I come from a country where we have always been asked for a precise political position, a definition that is so mandatory that it tends not to be a true answer. I am interested in developing ideas with a semantic density that not only comment on local contexts, but also address broader issues, including language itself. I could be completely wrong or in the right place, but it's the risk of art," he says.
Other large installations reveal unique aspects of Garaicoa's research, such as his commitment to expressive titles and the precision of making and assembling the works. The work end of silence (2010), the only one from the show already seen here, displays a set of tapestries made from photographs of the sidewalks of Havana on a dark floor. Each rug contains a type of signature, textual or graphic from pre-revolutionary commercial establishments, which is modified by the artist. a photograph of The struggle, for example, becomes a rug The fight is everyone's. Other pieces create words based on the original typography or keep the characteristics of the photographic moment – ​​such as the shadow of a passerby and a lamppost over the sentence. The thought. When walking through the room, the visitor is taken to a fanciful and subversive public space. at installation Music sheet (2017), an orchestra is made from recordings by street musicians between Bilbao and Madrid. The work was sketched when Garaicoa lived for almost a year in Rio de Janeiro, in 2006. Each pedestal of the orchestra contains the performance of an instrument on tablets with headphones, accompanied by imaginary scores. In the center, the conductor's place is replaced by canvases that animate all the scribbles and boxes that resonate the composition as a whole.

It is precious to note how space and time are extended by the Cuban both by the long periods of production of a work and by its plastic results themselves. According to Athayde, Garaicoa's methodology is quite specific. "He is constantly generating ideas in a bunch of notebooks that age well over the years, gaining strength and maturity. In addition, there is an aspect of conceptual art, with a rigor that makes him face the marrow of the proposals".
At the age of 50 and with a consolidated trajectory in the international scene – he holds an average of six individual exhibitions a year in different countries -, Garaicoa is also the founder of the Artista X Artista artistic residency, where he can immerse himself in the production of the youngest and escape the central role. that the market has in the current art system. "Historically, the way to make art is to dedicate time and today many young artists think first about the commercial value of their work, which gallery will speak for them or are striving to create works overnight. When you become a professional artist, you are no longer free," he comments. "All I've done with what I've gained in these years is try to get more time for creation". At this point in the conversation, the curator adds: "Carlos is like an icebreaker, opening a gap for him and other artists to overcome simplistic market relationships and create more complex thoughts".