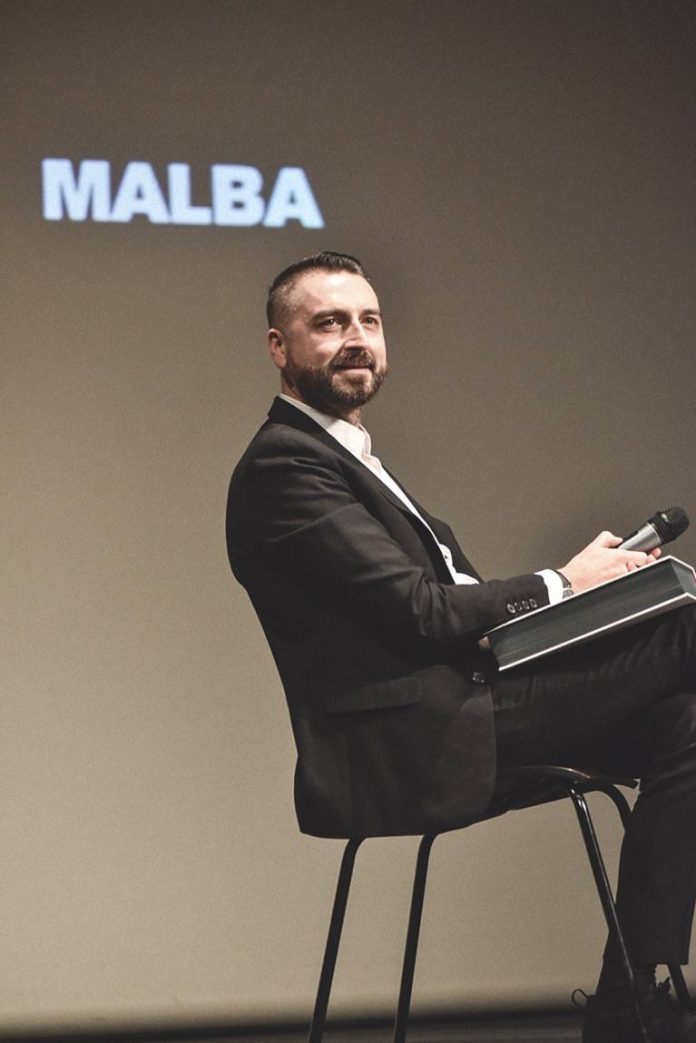 A!B What was your experience and what do you feel you've done relevant in these years?
First of all, what is relevant for me is what I managed to do and leave within the institution, a private museum, in the context of a city like Buenos Aires, in a country like Argentina and with a vision of regional importance, the Latin American continent.
The search for a public notion through the transfer of knowledge, the construction of projects and not only the amplification of the museum, its program, its image, its protocols of action. Why? Because when I arrive at Malba it's a museum I already know. In fact, since its birth in 2001, when it was still under construction. I followed the work of Agustín de Arteaga, Marcelo Pacheco as director and chief curator and Laura Buchelato, who was director of MAMBA. She didn't know Eduardo Costantini, its president, but she knew his shows and part of the collection.
It so happens that, in 2013, a year before being chosen as artistic director, together with ICI, the International Independent Curator of NY, with Rennó Prot we did the first "curatorship workshop" in Latin America. Magalí Arriola, Michy Marxuach, Naomi Beckwith, etc. And, as part of this dive, we just came to Malba to visit the collection and the experience was disastrous. The educator's guided tour had gaps, there was no curatorial script. In short, things that are part of the dynamics of managing a museum were missing, things that you have to implement looking at a set of needs from when you enter until you leave and which, incidentally, were issues that we studied and analyzed in the group. A year later, I was living in Toronto, it would be difficult to come, but after a negotiation I took over as artistic director. The first thing I did was to study the archive, the history of the institution and investigate gaps, what was left out and why. From there, the first year was for us to look inside, implement a way of working, create new departments from what already existed, such as education, literature and cinema. I implemented art and thought and we built an umbrella for Public Programs. We hired Lucrécia Palácios to coordinate them and Renata Cervetto, for Education. We publish Shake before using, purchased by SESC in Brazil. It is a project with Miguel López, Teorética Malba.

Today this group is no longer in Malba, it is another time.
The most important thing was to work transversally. Understand the role of the association of friends, the procurement committee, put all the area heads together at a table to discuss.
When I enter the museum, I propose a way of working. The first year was dedicated to this work. The construction of a structure, an Artistic Director, an Executive Director, who at that time was Federico Braum, working together. One board curatorial, which is what we call a scientific and artistic committee, where to be able to talk about the program and even more to be able to give the lines of the collection. The museum did not have a clear division when choosing acquisitions or organizing the exhibition of the collection.
This board was fundamental for my management. Formed by Julieta Gonzales, Andrea Giunta, Victoria Giraudo, Inés Katzenstein, Adriano Pedrosa, Octavio Zaya and myself, seven people.
Dialogue with them involved implementing work protocols, organizing public programs, and planning education. Working very closely with Guadalupe Requena on the importance of establishing a publishing and communication department.
In a second moment our focus was the content. Malba had developed important exhibitions but, in general, Malba imported exhibitions. A museum has to be at the forefront, it has to have proposals, and not just be the receiver and, obviously, make partnerships. For me, it was essential to find a way to make our own exhibitions viable. This is how in four years, out of almost 42 shows, only one was imported. Among the large and medium. Several roamed. We always seek to create a balance, choosing an Argentine artist, a Latin American artist and an international project. This is also based on the difficulty we have today in bringing an international exhibition. In the case of Diane Arbus, we were only able to do it because we had a partnership with the MET – Metropolitan Museum of NY-, which owns the archive. In terms of content, we extend our gaze to Chile, Mexico and Peru for the idea of ​​determining a room for exhibitions of historical Latin American women, of creating studies of gender, geopolitics and the environment.
Understanding that the museum is a bridge, opening collaboration agreements with embassies and biennials.
A!B In your opinion, what is the key moment of your participation or, the moment that allows you to say, well… now can I leave?
this moment is verbamerica, the new presentation of the permanent collection that Andrea Giunta and I are doing for the museum's 15th year.
verbamerica it was the sedimentation, the systematization of the work we had been doing. The work was shaped and allowed to be seen and appeared in the modules of the exhibition bodies, affections and emancipation and about feminism, in room three. Or with Ximena Garrido-Lecca, who brings up the extraction of minerals, in a module that talks about maps, geopolitics and extraction. A module that talks about multitude, work and resistance. That's why Alexander Apostle appears with the workers' questions. Or Queer issues, hence understanding why we made General Idea.
That is, to understand that Verboamérica came to understand that Latin America is not the object of study, but the subject.
It is the subject who studies the object itself. It means that we can see ourselves from ourselves.
Understand the nomenclatures that are no longer European or Anglo-Saxon. decolonize the museum. Where post-colonial history is narrated, where colonial history and traditional modernity are assumed but where "the margins" are also studied. Everything you don't want to see. Blackness, women, the favela and indigenous people.
We managed to create a link between curatorship, exhibitions, acquisitions and how to work with education. The catalog begins with a glossary of terms, which link to the collection. The public can access and make suggestions.
It's nice see, now that I'm leaving, something that makes sense as a whole and, fundamentally, for those who work at the museum.
A!B: What happens when you leave?
As of my output, everything that was implemented remains. public programs, the board. The president asked the curatorial committee to continue on the project. What can change is the content. I don't know what might happen in the future, I have a kind of vision. Another artistic director may come whose interest is different in certain themes. What interests me is having been able to implement a work methodology. And this one would be very good if it stayed. Whether it will be maintained or not will depend on the decisions of the presidency and the board. But the pedagogical and educational idea, transversal, of investigation, of cataloging, would be very important to prevail. There are many things to do, and the ideal would be to expand this search. Have one "looking to the future". It remains, yes, to continue the cataloging, the expansion of spaces to work and to exhibit. The collection currently has more than 700 works and we were only able to exhibit 180. But we leave a pre-proposal of what is needed.
A!B: Agustín, why are you leaving?
My departure is joint. Upon my arrival, there was an agreement that I would be between three and five years. Indeed, there are personal issues. My partner and I are from Spain, we have been away from our family for a long time. But we also have to understand that from a certain moment on, there are small changes that I would like to make and that the institution is not necessarily able to follow, whether for economic or ideological reasons. In this sense, with everything we've already done, it seems important to me to be clear that it's better to leave at the right time. It's very healthy to put a limit and close a story that was and is very good at the right time.
A!B: What do you intend to do now?
First spend time in Spain, and I want to spend a lot of time managing projects as an independent curator. I'm going to settle in Madrid and I'm going to travel to Buenos Aires, Chile, Quito, Lima and Turin.
A!B: Would you like to do a Biennial? Do you believe that there are sold out models?
I am a person more institutionally linked to the Museum than to the Bienal. I am a member of board of the Istanbul Biennale. In fact, it is interesting for a curator to put into practice other formats. I've already done the Nicaragua Biennale. But I'm more interested in giving myself the time to find another institution. I have the ability to manage and to seek coherence between the different challenges that are built in the long term. In this sense, Bienals are like a hoot and do not necessarily allow you to leave a legacy. Still, it is also necessary to reformulate the concept of Bienal. What is really expected of them.
Just as the XNUMXth century museum is exhausted in its formulation and we have to go after public programs and permanent activations, look for the exhibition to be a trigger beyond the artistic act, biennials are trying to experiment with other formats, calling on artists to as curators, to commissioners, for a curator to call another curator, but this has already been done at several other times. We have to think about the concept and new, more immersive models.